Da Nang is known as one of the extremely attractive destinations for both domestic and foreign tourists. Many people have chosen Da Nang as the next destination in their journey to explore Vietnam. However, there are many people wondering about the ticket prices of Danang tourist areas in 2019 and change. Let's find out with DaNaPho right here!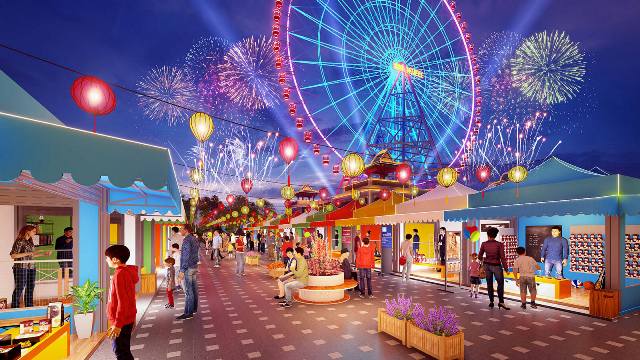 Overview of Danang tourism
As a "golden pearl" located on the central strip of land, Da Nang is favored by Mother Nature with poetic landscapes, long and beautiful coastlines with white sand, golden sunshine. Traveling to Danang is one of the perfect choices for you in the last months of this year!
Coming to Da Nang, you can experience and have fun with thousands of attractive places such as Marble Mountain, Ba Na Hill, Cham Island ,… or other places such as Dragon Bridge, Han River Bridge,… Or "relax" to enjoy countless specialty dishes here such as Quang noodles, fish cake noodles, fish salad, pancakes ,… or extremely fresh seafood.
As a tourist city, so you need to be prepared as well as your wallet! Because almost all entertainment venues in Da Nang are charged. Let's join us to name famous places and update the latest ticket prices of Danang tourist areas 2019 for you right below!
Ticket prices to visit Danang tourist areas 2020
Do not let you wait long and also help you not waste time hunting for scenic spots in Da Nang, I would like to briefly share a few features about tourist attractions as well as ticket prices applied in 2019:
Ba Na Hill – a place of fairy scenery
Known as a paradise that you definitely cannot miss when visiting Da Nang, Ba Na Hill is only located about 40km from the city center in the southwest direction. Coming here, the whole of Da Nang seems to be miniaturized in your sight. What are you waiting for without coming to experience and admire that majestic 1 0 2 scenery right now! Do not forget to check-in for yourself at the Golden Bridge with giant hands that are a tourist symbol in Da Nang!
– Cable car ticket: 750,000 VND.
– Buffet ticket: 225,000 VND (at Club/Arapang/Le Jardin restaurant)
*Children's policy:– Children under 1m tall: Free – Children over 1m3: tickets like adults
– Children from 1m – 1m3:
Cable car ticket 600,000 VND. and buffet ticket: 113.000vnd
Sunworld Danang Wonder – Asia Park
Sunworld is known as one of the largest amusement parks in Da Nang. Coming to this park, you will experience countless interesting and extremely attractive games such as: Sky Treasure – thrilling games, Love Lock, Dino Island – dinosaur island and countless other attractive games that you should not miss!
Just like the ticket price of other Danang amusement parks 2019, the ticket price when you come to Sunworld is also paid in many levels for adults and children, and for people inside and outside the province.
– Ticket price to Asian Park for out-of-province people
Adult (over 1m4): 150 thousand /1 pax
Children (1m-1m4): 100 thousand / 1 guest. Free for children under 1m
– Ticket price to Asia Park Danang for Da Nang people 2020
Adult: 100 thousand /1 pax
Children (1m-1m3): 80 thousand /1 pax
Same price of 100,000 for students nationwide!
Son Tra Peninsula
If you come to Da Nang without visiting Son Tra Peninsula, you are not going to Da Nang! Indeed, coming here, you will not spend anything!
On Son Tra Island there are many famous tourist attractions that you need to go to be able to explore Danang, and especially these spots are free
These points must be mentioned as:
Temple of Inspiration
Top of the chessboard
Blue Lake
Table rapids
Obama Reef
1000-year-old banyan tree
In particular, you can also experience diving to see Son Tra coral extremely interesting and unique from only 400,000 VND.
Shen Tai Mountain Hot Spring Park
If you are still wondering where to go at the end of this year, Than Tai Mountain Hot Spring Park is one of the perfect choices for you! Not inferior to other famous places in Da Nang, this park attracts visitors in a very unique and unique way: natural mineral baths with hot water up to 75 degrees Celsius, toxin removal saunas, mud baths, water parks with thrilling games, experience eating longevity eggs,… Especially, the play area is also divided between adults and children, which is ideal!
The entrance ticket price at the park is slightly different from the ticket price of Danang tourist areas 2019 that is irrespective of tourists or Da Nang people like other entertainment places
Ticket price: 350,000 VND/person (Regardless of region)
Children's Policy:
Less than 1m: free
1m to less than 1m3: 50% of adult price is 175,000/person
From 1m3 and above: charge adult price.
This ticket price includes all water games, free swimming pool experience or sauna, mineral bath at Long Nguyet Lake, hot mineral water foot bath, Massage at Jacuzzi ,… and countless other interesting games that you can try. Besides, you can also completely experience mineral bath, ONSEN bath, mud bath, tea, milk, wine bath ,… or an affordable and suitable Spa package for you!
Read more: Discover Than Tai Mountain Hot Spring Danang
Ticket price for Danang 3D painting museum
Coming to Da Nang, you should take advantage of visiting the most unique 3D painting museum in Vietnam. Here you will admire the fascinating and vivid 3D paintings with your own eyes. You can enjoy taking virtual live photos and checkin.
With ticket price for Vietnamese guests is 140,000vnd
The ticket price for foreigners is 200,000 VND.
Read more: Let's explore Danang 3D Gallery
Ticket prices for Danang Museum
With ticket prices from only 20,000 VND, you will be immersed in the scenery of Da Nang through different periods: from the time of water building, water retention, war of aggression or the period of national development. In addition, you will learn about the culture of Da Nang through the Fisher Bridge festival or wedding customs, betel nut eating customs,…
Ticket price of Hoa Phu Thanh waterfall resort Da Nang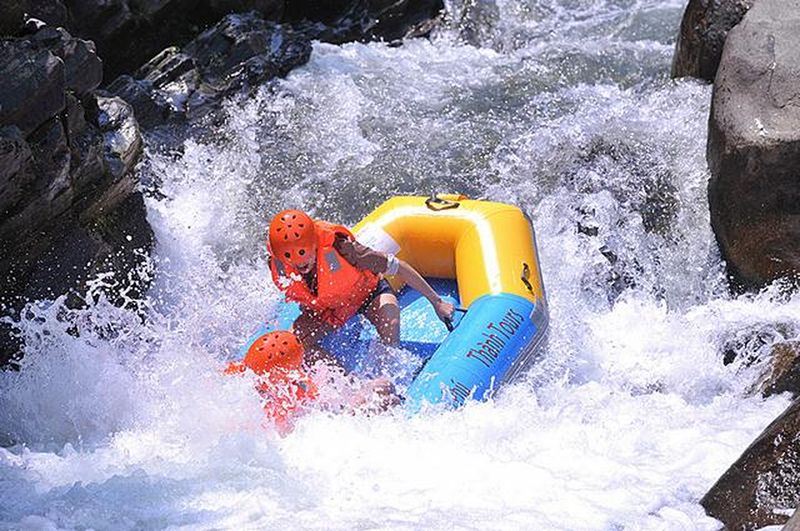 Hoa Phu Thanh waterfall ticket price is divided into 2 types: for other people outside the province and people from Quang Nam, Da Nang.
In addition, Hoa Phu Thanh can be divided into small services. I advise everyone if they come here, they should buy combos to play all 3 games.
KDL entrance ticket (except for children under 1.2m tall). Includes: Parking fee, locker, fish massage, water slide, swimming pool, life jacket, stream bath, insurance: 50,000 VND/person
Waterfall ski fares (including life jackets, helmets and transport vehicles). (Quang Nam/Da Nang people offer 180,000 VND – ID card required): 250,000 VND/ticket
Zipline ticket: 50,000 VND
Rental price for men's bathing pants: 15,000 VND/piece
Women's bathing pants rental price: 10,000 VND/piece
Women's bathing suit rental price: 20,000 VND/set
Price for renting a swimming boat without participating in the waterfall slide: 150,000 VND/piece
Rental price for individual houses (huts) (area from 10m2 – 80 m2): 250,000 VND – 1,000,000 VND/hut
Double self-contained room (1 day and night): 500,000 VND/room
Double self-contained room (1 noon): 250,000 VND/room
Single self-contained room (1 day and night): 400,000 VND/room
Self-contained single room (1 noon): 200,000 VND/room
Read details: Experience of skiing waterfalls in Hoa Phu Thanh tourist area
Non Nuoc – Marble Son tourist area
Coming to Da Nang, you must not ignore exploring the fairytale-like land here – Non Nuoc – Marble Son tourist area. The name Marble Mountains also says a part about the 5 largest limestone mountains growing near each other: Fire Son, Tho Son, Thuy Son, Jinshan and Moc Son.
You can refer to the ticket price list of Danang tourist areas 2020 to visit our Non Nuoc tourist area below to prepare yourself in advance and the trip is perfect!
– The ticket price for you to visit Marble Mountains is 40,000 VND/person.
– In addition, this place is extremely famous for its majestic, pristine peaks, beautiful and massive caves. If you want to visit Thuy Son mountain, the ticket price for adults is 40,000 VND / person, for students it is 10,000 VND / person, children under 6 years old are free. Or you want to visit the Underworld Cave – where you not only admire the delicate formations of nature but also learn interesting folk stories. The entrance fee for adults is 20,000 VND / person, for students is 7,000 VND / person, children under 6 years old are exempt from charge.
– Visiting Vong Canh Hill, ticket price is only from 10,000 VND/person.
– The ticket price by Marble Mountain elevator is 15,000 VND / trip and 30,000 VND / roundtrip. The elevator here will operate from 7am until 17h30pm, so please be proactive and book tickets in advance!
Ticket price to visit Hoi An tourist attractions
When traveling to Danang, most people spend time traveling to Hoi An, because the distance from Da Nang to Hoi An is not too far. It only takes about 45 minutes to move into Hoi An by bus, taxi, grab or use Da Nang motorbike rental service to be able to move in on your own.
Remember that when you visit Hoi An Ancient Town, there is no cost, you only spend money when visiting long-standing pagodas, ancient structures. And the cost of these visits is not more than 30.000vnd 1 time. And in Hoi An, you can refer to the famous tourist destinations in Hoi An that we summarize below
Ticket price to visit Hoi An pottery village
With a ticket price of only 15,000 VND, you will directly see the works and items made from ceramic. You can directly participate in this work to discover many interesting things.
Or you can buy items as souvenirs such as curiosities, jars or pretty little pigs.
Ticket price to visit Hoi An cinnamon tea vegetable village
Ticket price: 10.000 vnd
When visiting Tra Que vegetable village, you can experience "1 day as a farmer" with hoeing, bedding, sowing seeds, taking care of plants,… And you can finally harvest your product. And especially the people here prepare rustic dishes that are considered local specialties.
Ticket price Hoi An seven-acre coconut forest
This is a unique eco-tourism area not only in Hoi An – Quang Nam area but also known by many domestic and foreign tourists. With a ticket price of 30,000 VND, you can experience a completely unique river tourism model with many attractive activities such as: rowing basket boats under the guidance of local people or folding small beautiful gifts with coconut leaves and especially you will admire the extremely attractive basket boat shake.
Read more : Experience going to Seven Acres Coconut Forest in Hoi An
Ticket price to visit the temple area of My Son Quang Nam temple
My Son tower temple complex is a rather unique architecture of the Cham people that remains to this day.
The ticket price to visit My Son for Vietnamese guests is 100,000 VND and international visitors 150,000 VND
Ticket price to visit Quang Nam Cham Island
Cham Island tourist area is one of the tourist attractions that attracts many visitors. Currently, to go to the island, you can go on your own by wooden boat or if you go on tour, by canoe.
And usually, the price of a 1-day tour by 2-way canoe is 450,000VND
Coming to Cham Island, you will be able to visit many attractive attractions such as Marine Life Museum, Hai Tibet Pagoda, Champa ancient well, seafood market …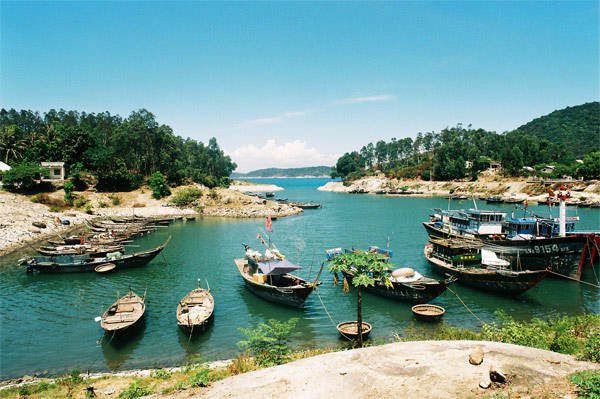 Read more: Pocket self-sufficient Cham Island travel experience
Bach Ma Peak Tourist Area
This winter, visiting Bach Ma peak tourist area is indeed a great choice! Everything, from the mountains, the fresh air, the clouds, these things create a poetic and charming picture of water. The dry weather along with the beautiful natural scenery, at the same time, is also the time when all colors of flowers compete to bloom, contributing to creating a poetic and attractive White Horse!
Coming to this place, you can visit extremely famous places such as Hai Vong Dai, Rhododendron Waterfall, Five Lakes, or experience walking along the trail to see and admire the natural beauty with giant ancient trees, rare animals, wild even in the Red Book.
First, when you come to Bach Ma National Park, you have to buy an entrance ticket of 40,000 VND / person. From here, to get from the foot of the mountain to the top of Bach Ma, you need to move nearly 20km more. The journey is not too long, but it will definitely bring you a lot of interesting experiences. Or you can completely choose a motorbike to explore or travel by 12-seater car with a round-trip price of about 900,000 VND – 1,200,000 VND / person.
Besides the famous tourist areas mentioned above, coming to Da Nang, there are many extremely attractive free tourist destinations that you cannot help but visit such as: love lock bridge, Han River bridge, Non Nuoc handicraft stone village, Hoa Trung lake ,… or swim at beautiful beaches such as My Khe beach, Non Nuoc beach, Xuan Thieu beach,…
With famous and attractive entertainment destinations in Da Nang along with the ticket prices of Danang tourist resorts 2020 clearly listed for tourists, do not hesitate to pick up your backpack and come to explore these wonderful things right away!
And don't forget to visit the famous tourist destinations page of Danang to refer to the experience when traveling to Da Nang
Source: Internet