Marble Mountains is a famous historical site of Da Nang. It is famous for its beautiful limestone mountains. And ancient temples sacred from ancient times. One of the most famous temples on the top of the Marble Mountains is Tam Thai Pagoda. Here, Halo would like to send you some information about Tam Thai Pagoda. At the same time, some other famous landmarks in the Marble Mountain complex.
1. Tam Thai Pagoda Danang
1.1 About Tam Thai Temple
To the west of Thuy Son Mountain, there are 156 paved steps leading to Tam Thai Pagoda, commonly known as Trong Pagoda. From Tam Thai Pagoda, there is a path through the mountains, through Van Nguyet cave to Linh Ung Pagoda and other caves. During King Minh Mang's trip in 1825, he visited all the landscapes. He named mountains and caves and carved inscriptions on cliffs. In 1826, the King again cast bells and statues for pagodas. The king's sister came to practice here. In the reign of Thanh Thai, the King went to Tam Thai pagodas, Linh Ung prayed for the national security.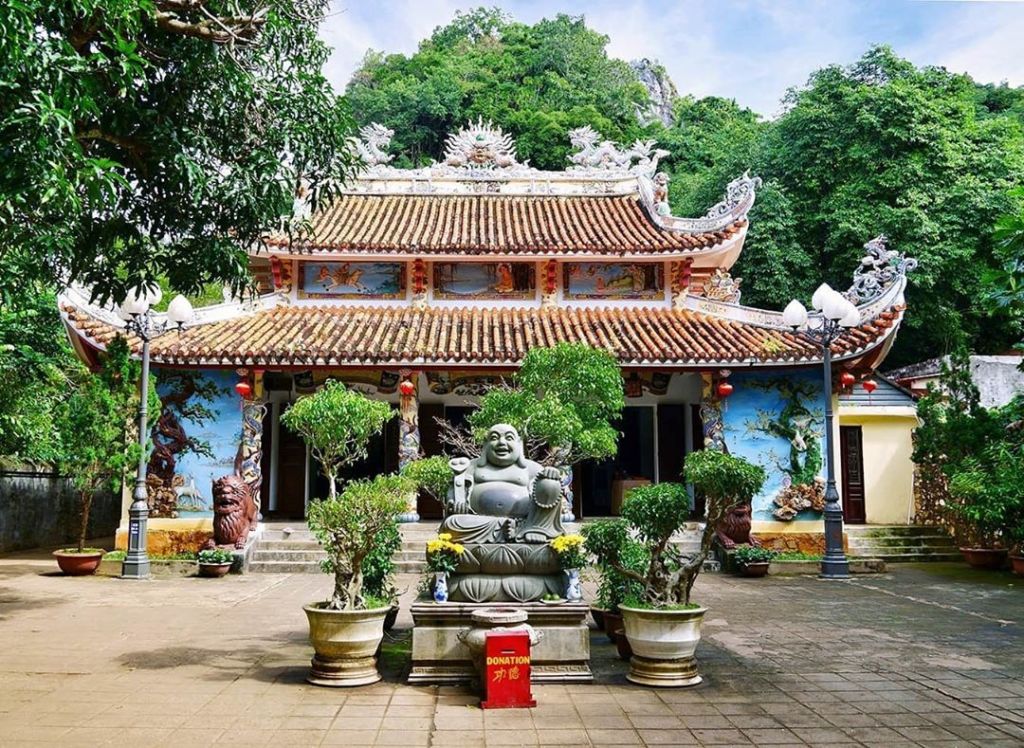 @trottingaround_theglobe
1.2 Architecture of Tam Thai Pagoda
Tam Thai Pagoda is built with a majestic and magnificent 3-storey architecture. The first layer is the Upper Thai located to the north. The second layer is located to the south called the Middle Thai. Finally, the third layer is the Middle Thai located to the East. The overall architecture of Tam Thai Pagoda is designed according to the Wang character in the Chinese Temple with many artistic and aesthetic lines. Outside the entrance is a triple gate made in the style of a roofed bell floor that looks very ancient. In front of the temple grounds is a majestic sandstone statue of Maitreya Buddha.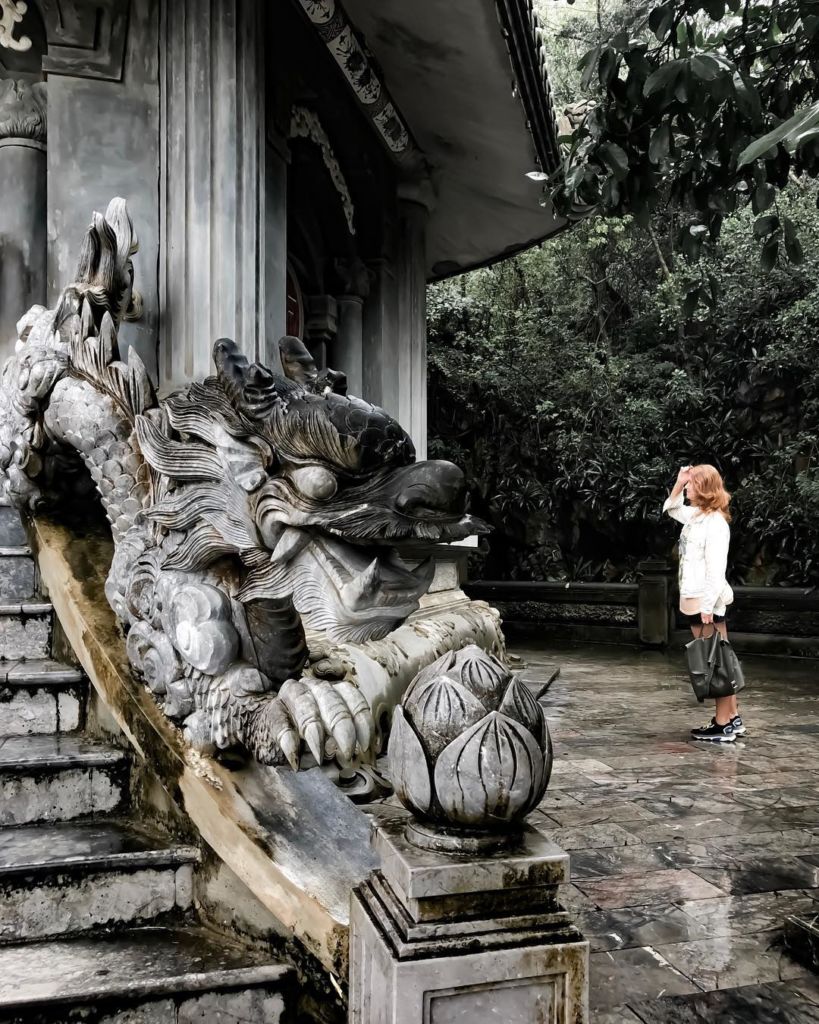 @anna_koshelenko
Bên trong chùa Tam Thai, có chánh điện thờ phật A Di Đà Như Lai, Quán Thế Âm Bồ Tát và Đức Đại Thế Chí. Trên hai tầng mái chùa được lợp bằng ngói lưu ly. Trên nóc chùa được trang trí tượng hai con rồng dưới nguyệt. Đây được xem là một kiến trúc đặc trưng của kiến trúc đình chùa thời nhà Nguyễn. Để đến được với Tam Thai Tự, du khách phải leo lên 156 bậc tam cấp của ngọn Thủy Sơn. Tương truyền rằng phía Bắc trước sân chùa trước kia là hành cung Đông Thiên Phước là nơi vua ngồi nghỉ mỗi khi viếng cảnh chùa. Ngày nay, chùa vẫn còn lưu giữ tấm kim bài bút tích của vua Minh Mạng ca ngợi phật pháp vô lượng từ bi cứu độ chúng sinh.
1.3 Lịch sử ngôi chùa
Chùa Tam Thai là ngôi chùa cổ được dựng vào thời Hậu Lê. Thiền sư Hưng Liên, pháp danh Quả Hoằng, từ Trung Quốc sang, đã trụ trì chùa vào cuối thế kỷ 17. Thời gian này, năm 1695, Thiền sư Thạch Liêm Thích Đại Sán có ghé viếng chùa. Ông đã cảm tác bài thơ vịnh núi Tam Thai, ca ngợi cảnh động Hoa Nghiêm phía sau chùa. Chùa bị hỏng hoàn toàn vào thời Tây Sơn. Năm 1825, Vua Minh Mạng cho xây dựng chùa mới bằng vật liệu gạch ngói. Ngài ban cho chùa tấm biển ghi Ngự chế Tam Thai Tự Minh Mạng lục niên. Và một tấm biển đồng hình quả trám, hai mặt có bút tích của nhà vua.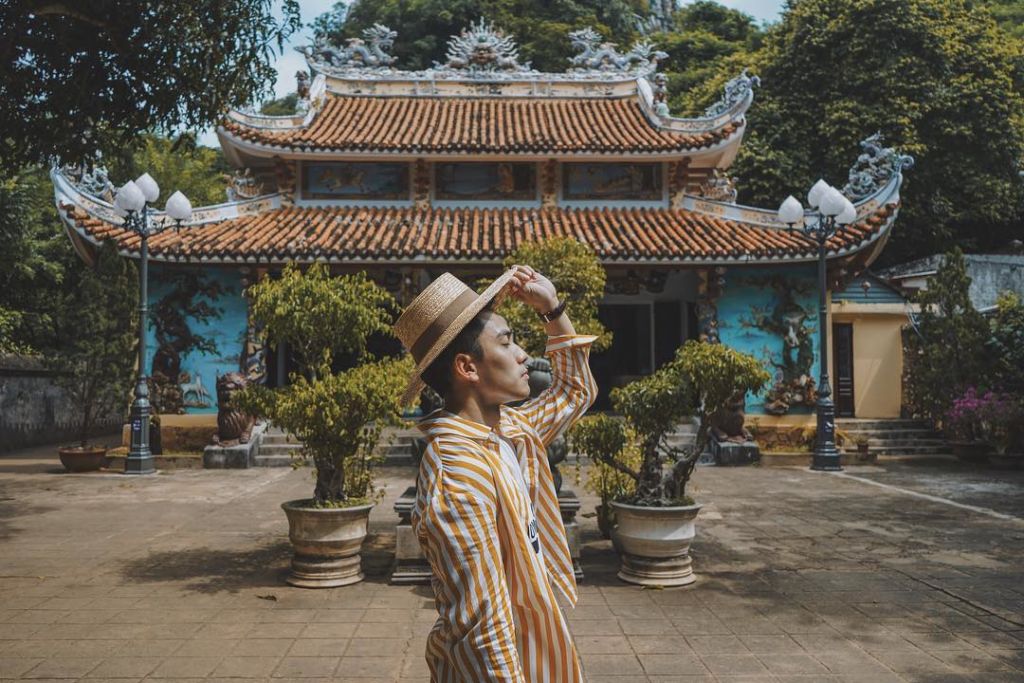 @kc9010_
Năm 1895, Hòa thượng Ấn Lang, pháp hiệu Từ Trí được sắc tứ Tăng cang trụ trì cả hai chùa. Năm 1901, cơn bão Tân Sửu đã tàn phá ngôi chùa. Đến năm 1907, chùa mới xây dựng lại. Chùa được trung tu nhiều lần. Hòa thượng Thích Trí Giác đã cho trùng tu chùa vào năm 1995, mặt xây hướng Nam, mái hai tầng lợp ngói lưu ly, nóc trang trí lưỡng long chầu nguyệt. Điện Phật thờ tượng Di Đà Tam Tôn, gian giữa tôn trí tượng đức Phật A Di Đà, gian hai bên thờ Bồ tát Quan Thế Âm và Bồ tát Đại Thế Chí. Hai bên tiền đường thờ tượng Hộ Pháp và Tiêu Diện.
2. Một số điểm đến khác trong quần thể Ngũ Hành Sơn
2.1 Chùa Linh Ứng
Địa điểm: Chùa Linh Ứng, Hoàng Sa, Thọ Quang, Sơn Trà, Đà Nẵng
Ngự trên đỉnh núi Bãi Bụt, bán đảo Sơn Trà, chùa dễ dàng được nhìn thấy từ hầu hết các vị trí trong thành phố. Tượng Phật Quan Thế Âm Bồ Tát cao uy nghiêm tỏa sáng. Đường dẫn lên chùa Linh Ứng Bãi Bụt rất to và rộng, được trải nhựa thoai thoải theo đường núi. Cảnh sắc bên núi bên biển đẹp tuyệt vời.
Từ trung tâm bạn đi xe máy chừng 10 phút là lên tới cửa chùa. Cảnh biển xanh mát dần hiện ra thật rộng lớn. Ngày đi trời xanh trong và nắng, gió mát thổi từ biển vào làm bất cứ ai ở đó cũng đều cảm thấy may mắn và hạnh phúc. May mắn vì được ngắm nhìn rõ nét khung cảnh hùng vĩ ấy. Hạnh phúc vì ở đất Phật tâm hồn thật thanh tịnh, không vướng chút bụi trần.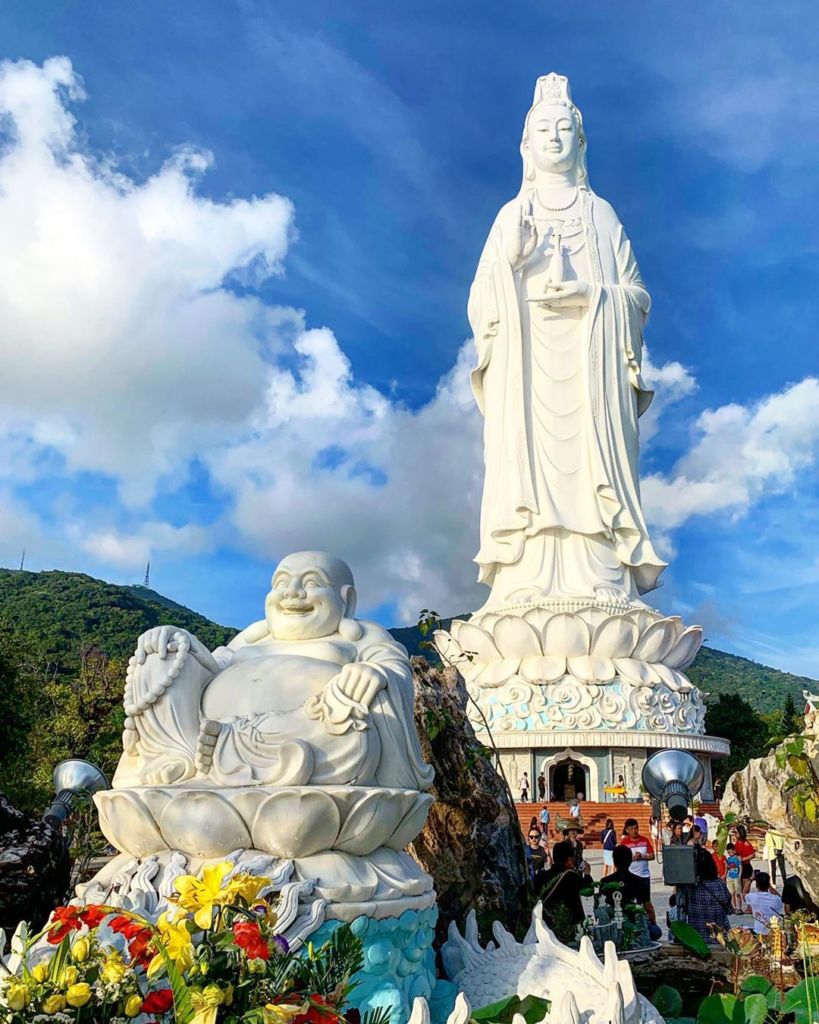 @s0613_bell1206k
Famous for the sacredness of "wishing to be seen", Linh Ung Son Tra Pagoda is always a destination not to be missed by anyone when coming to Da Nang. People come here often pray for fame and career. The temple is divided into 3 main areas. Stepping through the temple gate is the main hall located in the center of the large courtyard. Home to thousands of manicured ornamental trees and many statues of Luohan. To enter the temple, you must remove the shoes left outside, properly dressed or receive a discreet towel handed out by the monks nearby.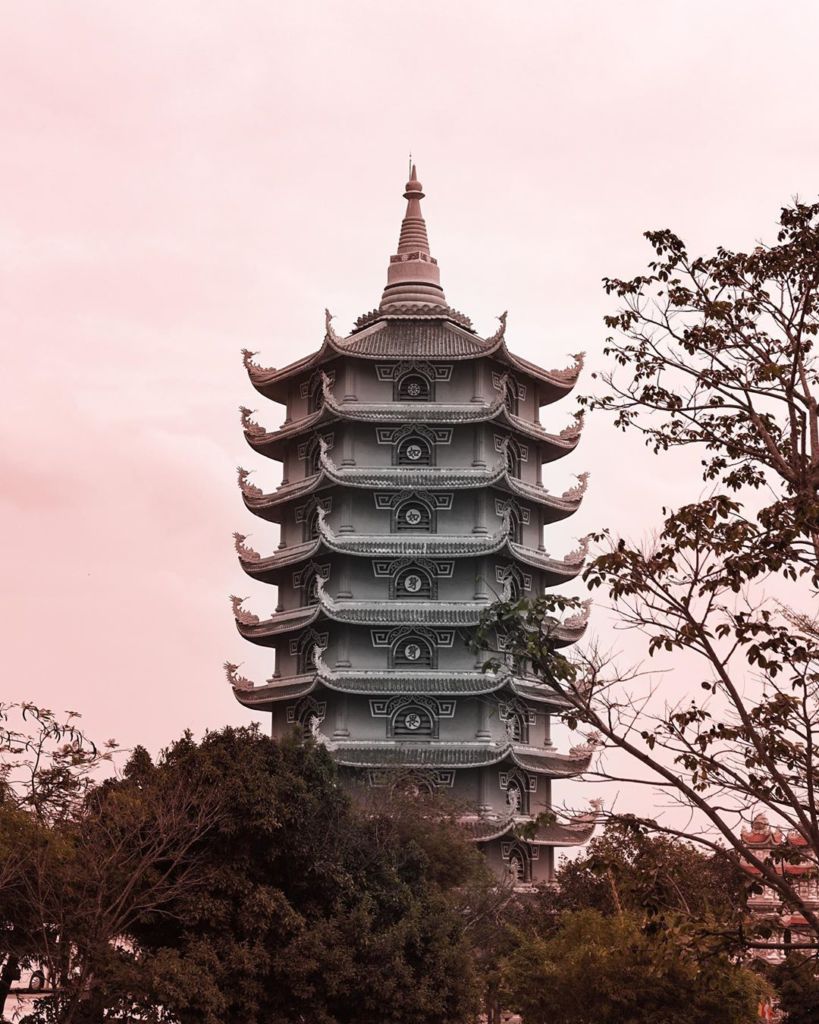 @vanessaaalfaro
To the left of the main hall is the famous statue of Guanyin Bodhisattva with 17 floors of worship inside. This is the tallest statue of Quan Yin in Vietnam. It is equivalent to a building about 30 stories high. Beneath the giant lotus is the main altar. When you enter, you will feel very cool because inside it is all made of wood. The space is large enough to still create a feeling of closeness, coziness and extreme tranquility.
– 2.2 Cave Xuankong
Dong Huyen Khong is located in the highest mountain in the Marble Mountains. The cave is open, has a rounded arch, flat base, with five holes in the arch to communicate with the outside. The flood of sunlight makes the whole cave sparkle. The entrance road to the cave has an archway with 3 words Xuankongguan. The gate is a bit narrow, the steps are quite deep, there are statues of Mr. Good and Mr. Evil in the middle of the cave door. This is a reminder for people to give up evil thoughts when they come to the sacred Buddha's door.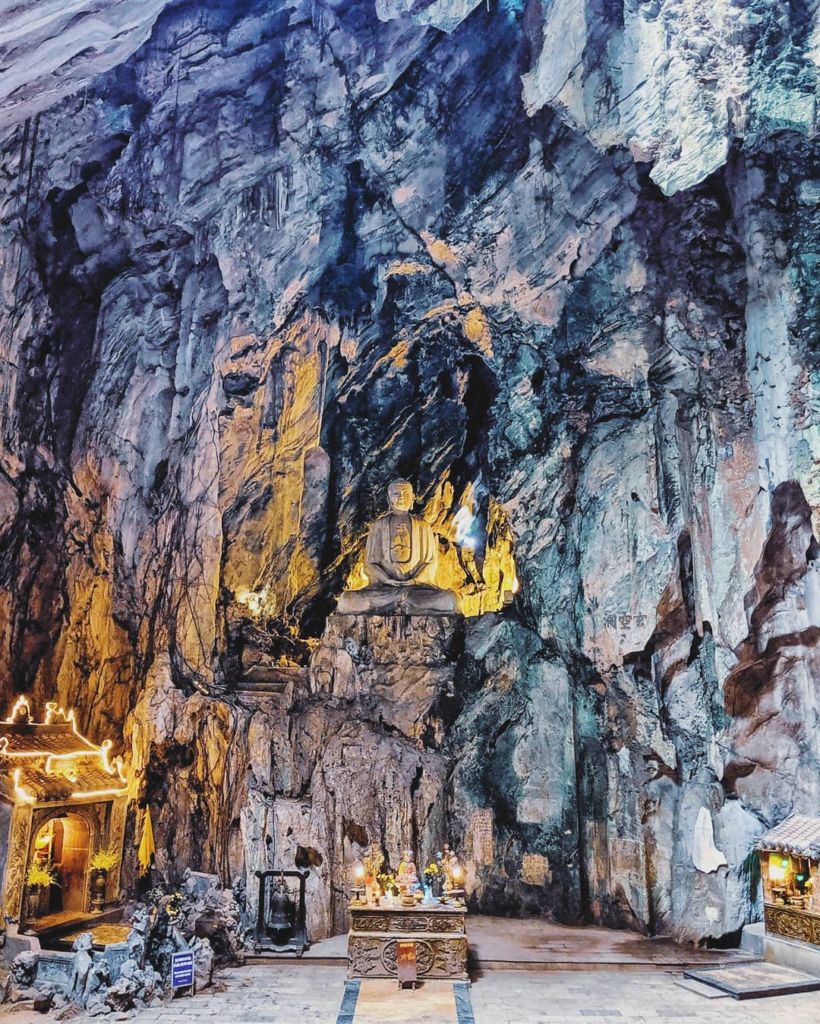 @premeverywhere
You just need to step down 5m deep behind Hoa Nghiem cave. Stairs with more than 20 levels, to enter Huyen Khong cave. The cave is likened to a giant bell, about 25m in circumference. This place is not only valuable in terms of spirituality but also geoscience and archaeology. Coming to the cave on a clear day, the sunlight shines down through the cave arch, you will see the best marble beauty in the cave. At the end of the 19th century, based on the stone material, the French named the landscape "Marble Mountains".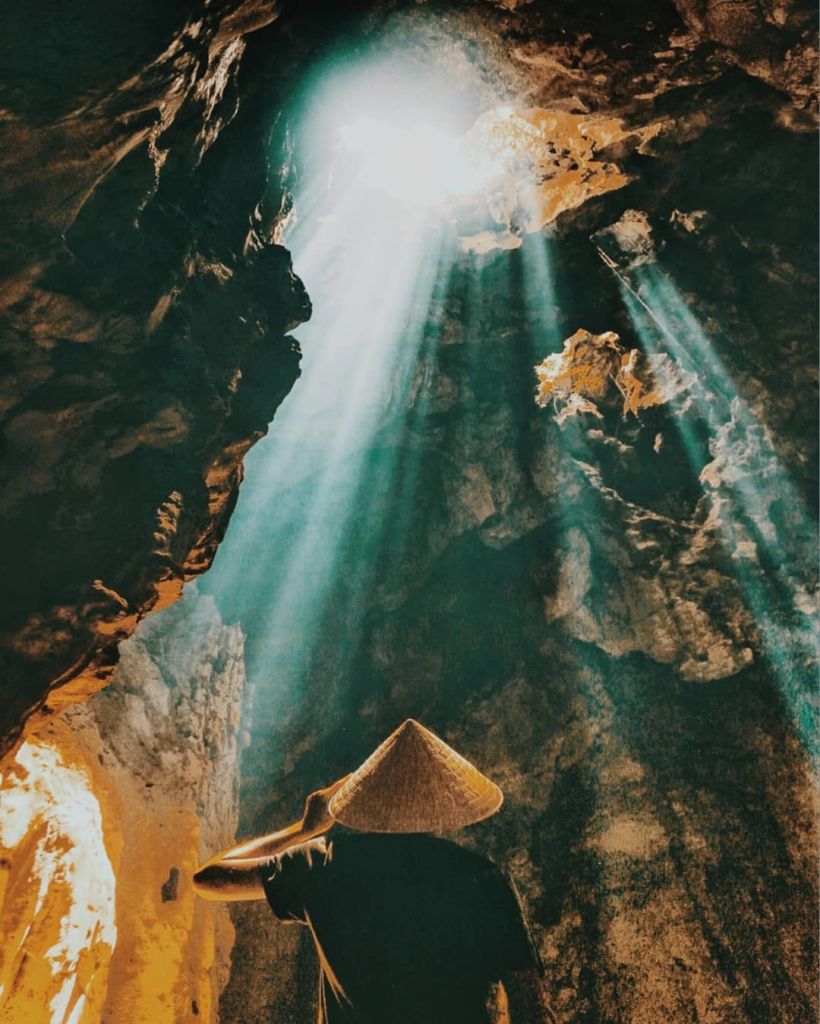 @soaipham
The special thing between Huyen Khong cave compared to caves such as Thien Cung cave, Sung Sot cave (Ha Long), Phong Nha, Tien Son cave, Paradise (Phong Nha – Ke Bang) is that the cave has enough airiness as well as sunlight. The air is not humid. The space does not have to install electric lights, but still sees the magical shimmering of stalactites. Huyen Khong Cave is like an air conditioner of nature on hot summer days.
2.3 Underworld cave
Yin Fu Cave is the longest and most mysterious cave in the Marble Mountains. The Yin Fu Cave is located in the heart of Shui Shan. The cave arch is high, with a height of 45m to 50m. This is a natural cave, but the cave formations randomly correspond to the Buddhist law of cause and effect. It simulates realms in which people will enjoy or suffer retribution posthumously.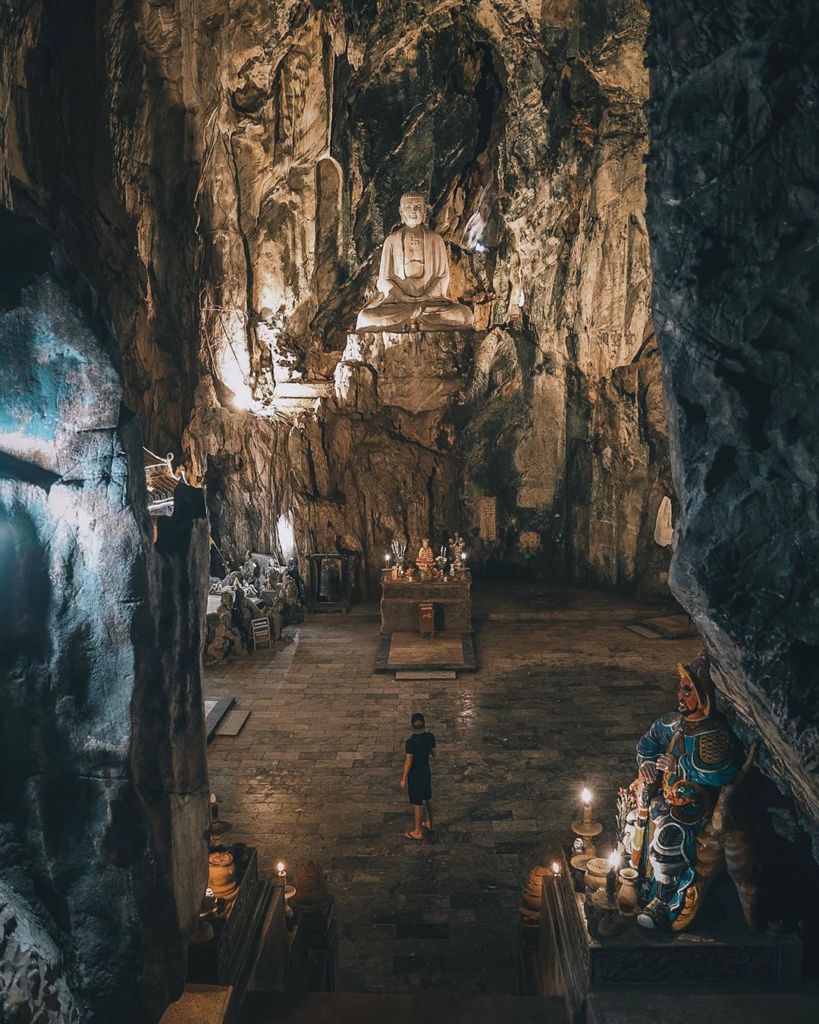 @nicolasjehly
The cave has two lines divided into two directions. One reclining to heaven or heaven. Recline the rest to underworld or hell. The way down to the underworld was murky and cold. The path of the heavenly realm gradually approached the light with bright colors. The center of the cave is the statue of the Bodhisattva King. According to the Buddhist concept, this is the bodhisattva of sentient beings in hell, saving sentient beings in the six paths of samsara. Going inside are statues of praetorians who govern 9 levels of hell and 12 gates of hell.
@praepanwa
In the theory of yin and yang, human life and everything are always opposites. Therefore, in the Underworld cave, there is also a way to the sky. It's like the division between Evil and Good. Unlike the way to hell, the way to Heaven is naturally lit stairs. The "top of the sky" area overlooks the sea. Below is Non Nuoc handicraft village and the scenery is very poetic.
The above article is some information about Tam Thai Pagoda and some other famous landmarks in the Marble Mountains tourist complex. Halo hopes this information will make your upcoming trip to Danang more interesting!