What is attractive about Son Tra Peninsula – Da Nang?
Son Tra Peninsula is considered the "green lung" of Da Nang city with a rich and diverse plant ecosystem and many famous landmarks.
This place is one of the highlights attracting tourists to Da Nang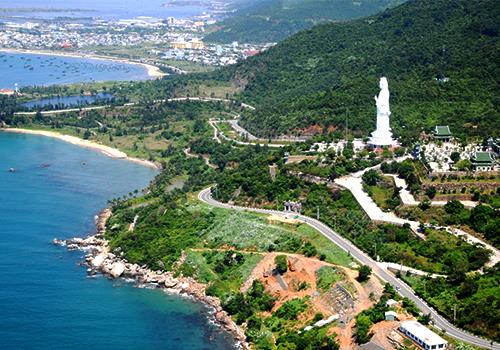 According to the plan approved by the Government, Son Tra peninsula strives to become a national tourism area before 2025 and by 2030, Son Tra National Tourist Area will become an ecological tourism center, high-class resort, unique of the South Central coastal region in particular and the whole country in general.
By 2025 it will be a national tourism area
According to the plan approved by the Government, the area planned to develop Son Tra National Tourist Area has an area of 1,056 hectares, located in Son Tra peninsula in Tho Quang ward, Son Tra district, Da Nang city, with a total area of about 4,439 hectares.
Son Tra National Tourist Area with the goal of developing will become an important destination on the national road and sea tourism route.
According to the planning orientation, 3 service centers and gateways to Son Tra National Tourist Area will be formed on 3 axes approaching Son Tra peninsula, namely the welcoming and accommodation center of Blue Lake – Bai But ; environmental interpretation center and ecotourism at the intersection of Ban Chess road with Yet Kieu street and tourism service center and restaurant in Tien Sa area.
On the basis of rational exploitation of the overall strengths of marine and forest resources, Son Tra National Tourist Area will focus on developing a number of types of tourism such as ecotourism, high-class resort tourism, cultural-spiritual tourism and sports-adventure sports tourism.
In addition, there will also be auxiliary tourism products including cultural-historical-revolutionary tourism, sightseeing and products associated with neighboring areas such as Marble Mountain, Nam Hai Van, Ba Na…
For the international tourist market from North America, Western Europe, Northeast Asia, Southeast Asia …, Son Tra national tourism area will focus on exploiting the market segment of ecotourism, high-end beach resorts and adventure sports; guests with high affordability and long-term stay…
For the key domestic tourist markets are Hanoi and Ho Chi Minh City, focusing on the market segments of ecotourism, high-end beach resorts and cultural-spiritual tourism.
With the planning orientations, Son Tra National Tourist Area strives to welcome 2025.3 million tourists by 5, reaching revenue of about VND 1,900 billion; By 2030, it will welcome 4.6 million tourists, achieving revenue of about VND 4,300 billion. And when it becomes a national tourism area, Son Tra will contribute to creating more than 2,800 jobs for direct workers.
Attractive destinations
Son Tra Peninsula, located in a fresh cool climate, with beautiful natural landscapes, has long been one of the most attractive destinations of Da Nang with the ecotourism potential of old-growth forests in the heart of the young city, and famous beaches voted by many prestigious international tourism websites as one of the beaches The most beautiful sea in the world. There are many stops to attract visitors such as the top of Ban Chess, Linh Ung Pagoda, Heritage banyan tree….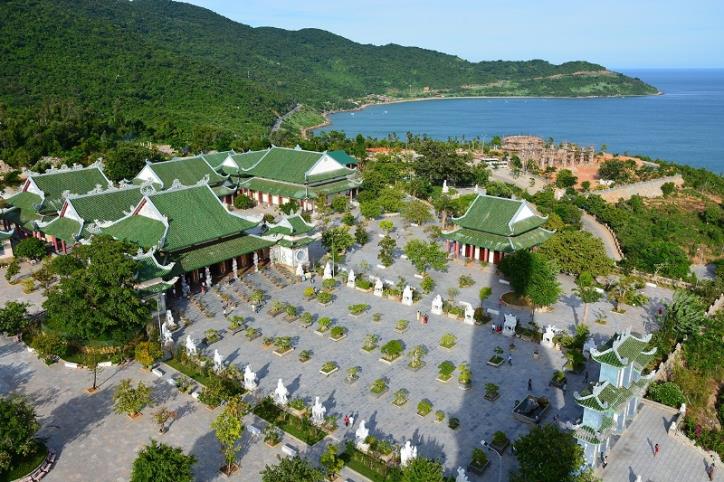 Exploring Son Tra peninsula, from a height of 500m, stopping at Vong Canh Hill, visitors will be immersed with cloudy sky, young water, with blue sea and white sand at Pearl Island and Hai Van pass in the distance.
The symphony of sunshine and wind will take visitors to the top of the Chessboard, bringing a sense of adventure in the mist. The winding way to the top of the mountain is a journey that can experience many beautiful and poetic landscapes of Son Tra peninsula.
Going through the road from the foot of the peninsula to the top of Ban Chess, all fatigue is dispelled thanks to the vast space as a foreboding place and can see the whole city of Da Nang.
When following the mountainside to the southeast of Son Tra, you will see the multi-complex of Son Tra nature reserve, including a banyan tree with nine side roots penetrating deep into the ground, creating a rare beauty anywhere.
This millennial tree or banyan tree is considered the heritage tree of the city and attracts many visitors.
Coming to Son Tra peninsula, visitors can not ignore a special feature, which is Linh Ung Pagoda – the largest, newest and most beautiful of the 3 Linh Ung pagodas of Da Nang.
Linh Ung Pagoda in Son Tra peninsula is located 10 km northeast of Da Nang city center, at an altitude of 693m above sea level, the pagoda is considered as a privilege that nature has generously bestowed on Da Nang city. Here visitors will admire the tallest statue of Buddha Quan The Yin in Vietnam (67m high).
In particular, Son Tra peninsula is also considered the habitat of about 300 individuals. Brown-legged scrub langur, a rare animal listed as endangered in the Red Book of Vietnam and an animal classified by the World Union for Conservation of Nature as an animal in need of unconditional protection. The brown-legged scrub has become a symbol of Da Nang city.
And there are many other attractive places Tien Sa Beach, Black Rock Beach, Mui Nghe … with its own characteristics, has created a very interesting attraction and unforgettable unique experiences for visitors every time they come to Son Tra peninsula.