Dubbed the most livable city in Vietnam, what is good about Danang?
Article Table of Contents
Connecting Hai Son district and Son Tra district, Han River Bridge is the pride of Da Nang people in particular, as well as Vietnamese people in general, besides, Han River Bridge is also one of the most famous tourist destinations in Da Nang city. The reason is because this is the only bridge designed and constructed by Vietnamese engineers, the same people of Da Nang who joined hands with the government to build this "made in Vietnam" bridge. Check in at the Han River Bridge, you will have the opportunity to see that the bridge is turned at 1pm, located along the Han River to let large ships pass, until about 4-5am, the bridge will return to its old position.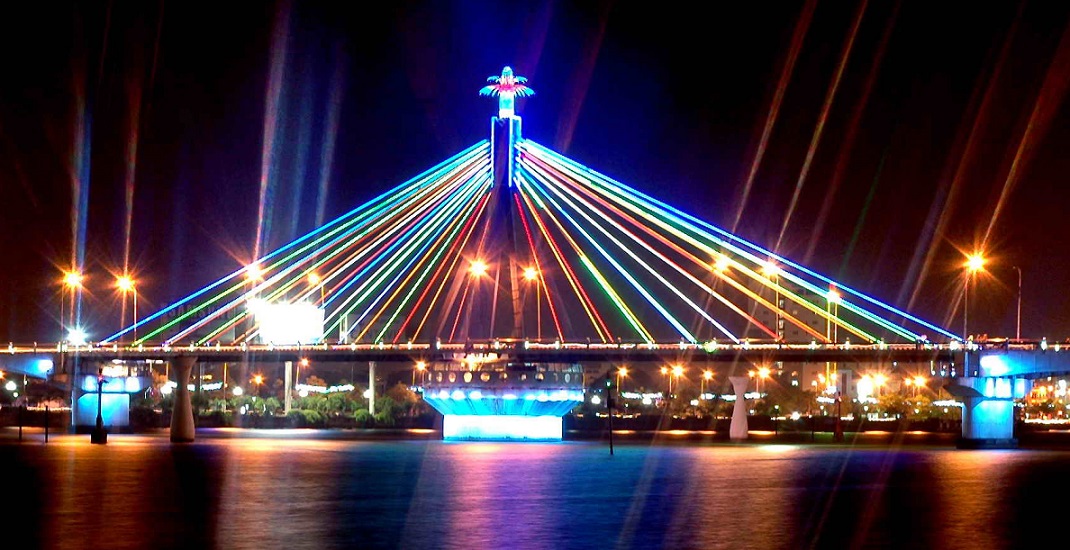 Han River Bridge
With an area of up to 868,694 m2 on the west bank of the Han River, Asia Park, also known as Asia Park, is an amusement park in Da Nang with international scale and quality. The park consists of 3 main zones: outdoor recreation area with modern, adventurous games; The miniature structure symbolizes 10 Asian countries, and the 3rd area is home to the famous sun wheel. In particular, Sun Wheel has reached a record in the top 5 largest rotations in the world with a height of 115m. Visitors should come to this park in the early hours of the morning, afternoon or evening so as not to get too sunny, and to see the park shimmering in the evening.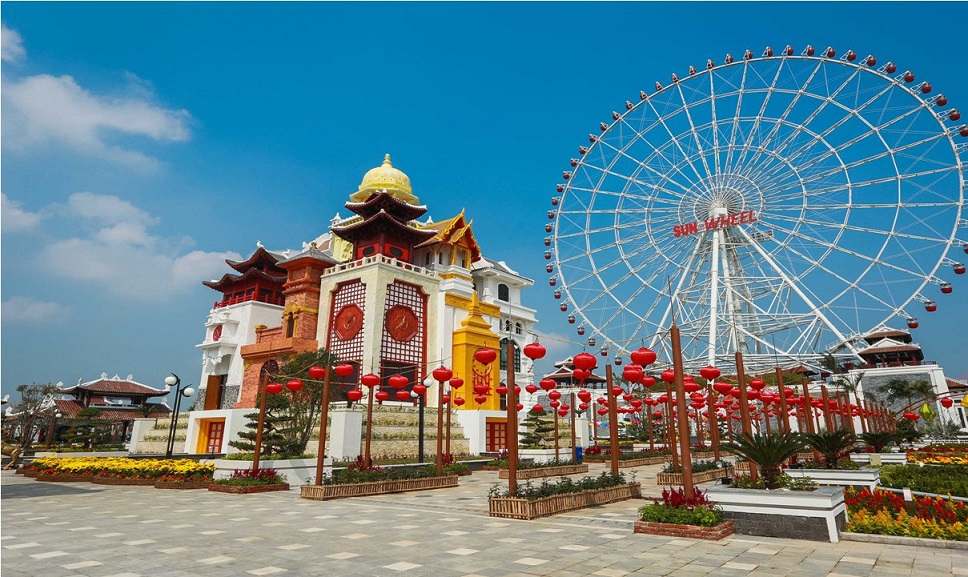 Công viên Asia Park
Known as the virtual living paradise of young people, 3D painting museum is one of the famous places in Da Nang that you must visit. Danang 3D Painting Museum is located at Lot C2-10 Tran Nhan Tong, Son Tra with an area of up to 3000m2 and owns hundreds of vivid 3D paintings, unleashing visitors to take photos and check in here. The museum is divided into 9 areas with 9 different themes such as Illusion, Classical Art, Ocean, Wilderness, Wonderland,…. Lost in the 3D painting museum, visitors will have the opportunity to explore vivid 3D paintings made by artists from Korea, this is also one of the interesting check-in points that visitors should not miss when traveling to Da Nang. 3D painting museum is open from 9h – 20h daily and ticket price is 140,000 VND/adult ticket, The ticket price for children from 1 – 1.3m high is 100,000 VND/time.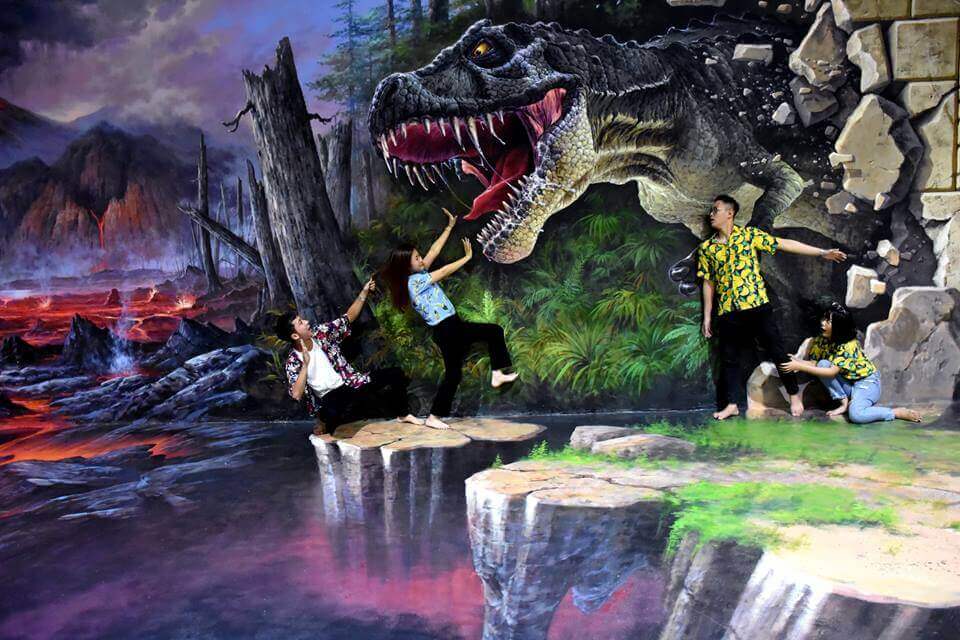 Check in at the 3D Page Museum
Danang Dragon Bridge is one of the most beautiful bridges in the world, with a dragon symbol design winding around the bridge, representing the prosperity of Asia. Dragon Bridge is also an interesting check-in point for self-sufficient Danang tourists, especially if you come here at 21h on Saturday, Sundays on weekends or on major holidays, there will be a chance to see the Dragon Bridge spraying water, breathing fire. Besides, at the foot of the bridge, there are many gathering spots such as iced tea, grills, sidewalk hotpots suitable for young tourists to come to cool off and enjoy the scenery at the foot of the bridge.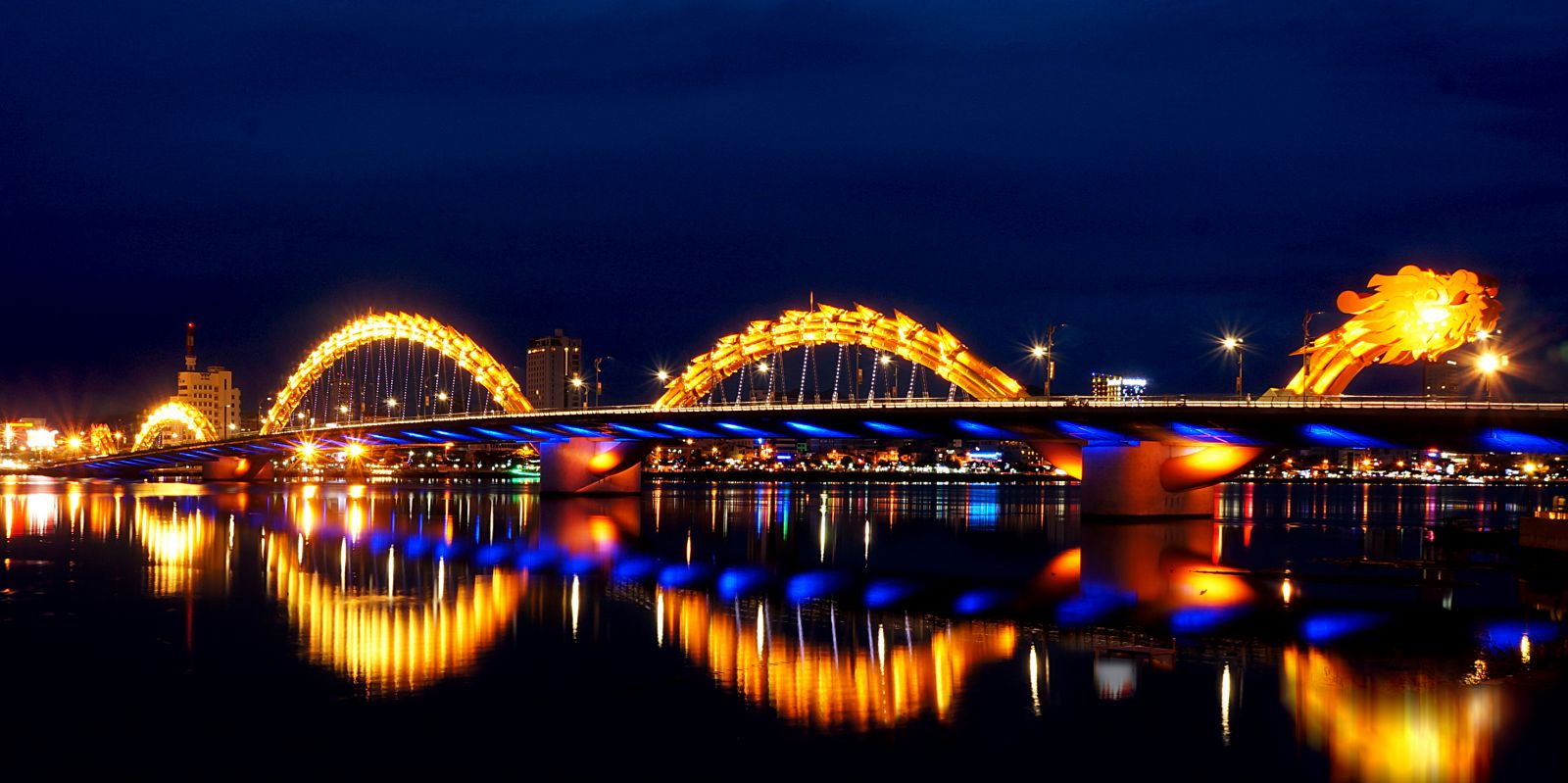 Dragon Bridge Danang
About 7km from the center of Da Nang city, Marble Mountains is likened to an artistic masterpiece that converges enough charming water paint of nature. Marble Mountain is the most suitable destination for those who both love to explore and like spiritual tourism. Visitors will visit the unique dynamic system created by mother nature: Quan Yin cave, Hoa Nghiem cave, Thien Long, Linh Nha. Interspersed with ancient temple oaths with fanciful spiritual colors, strange sacred. Before the journey ends, visitors will stop at the nearly 400-year-old Non Nuoc Handicraft Village, to buy souvenirs, or admire the exquisite stone sculptures.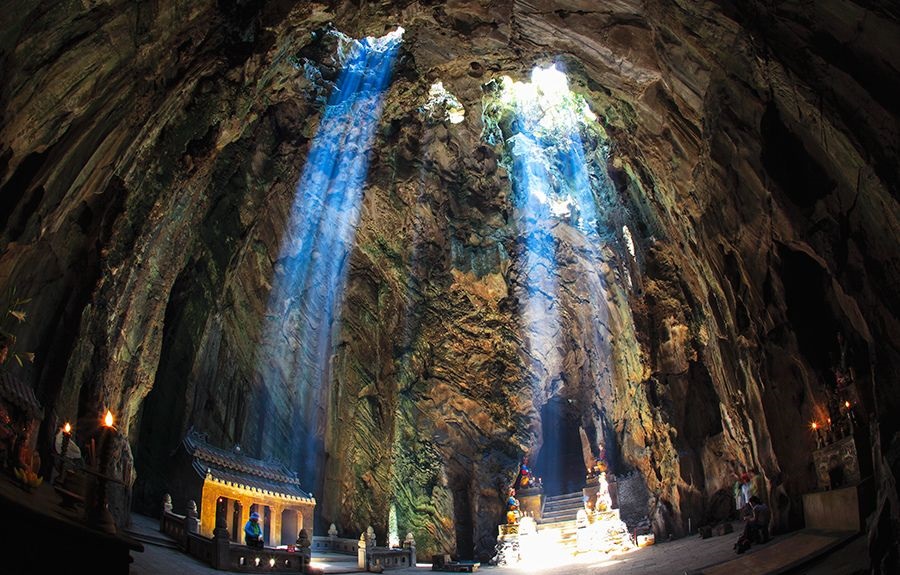 Marble
Located about 25km from the center of Da Nang, Ba Na Hills is praised by the press with beautiful names such as "green lungs of the Central", "pearl of climate". Besides, with the slogan "the way to the foreground", Ba Na Hills tourist area is one of the entertainment areas in Da Nang that is really beautiful as the slogan. The weather here is clear in 4 seasons: spring, summer, autumn, winter on the same day. Looking down from Ba Na mountain, visitors will take a panoramic view of the water, mountains and forests from Hoa Vang Delta, Son Tra peninsula to the Han River, and the beautiful city of Da Nang. Here, visitors have the opportunity to participate in a variety of activities: cable car excursions, thrilling games, climbing, visiting love flower gardens, visiting Linh Ung Pagoda, Bell floor,… The ticket price for Ba Na Hills by two-way cable car is 1,750 VND/adult and 000,600 VND/child, children under 000m tall will be free.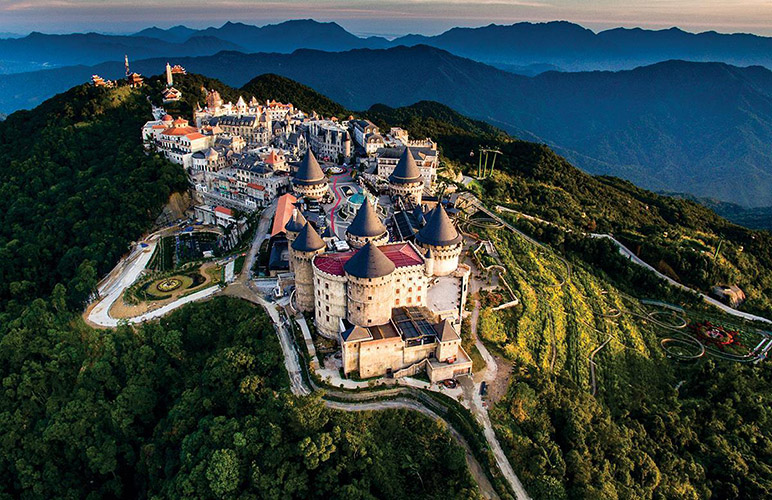 Ba Na Hills Tourist Area
Cham Island is a complex of 8 islands, which is a tourist destination in Danang not to be missed when coming to the coastal city. Taking a speedboat to Cham Island, you will catch the wind with the salty taste of the sea, the vast surrounding space, the clear blue sea color sees through the bottom. Taking all the courage and diving into the sea will be a great experience when witnessing with your own eyes colorful coral reefs, schools of rolling sea fish hiding in the nameless cliff. Do not forget to enjoy the specialties here such as squid one sun, steamed clams, grilled shrimp ,…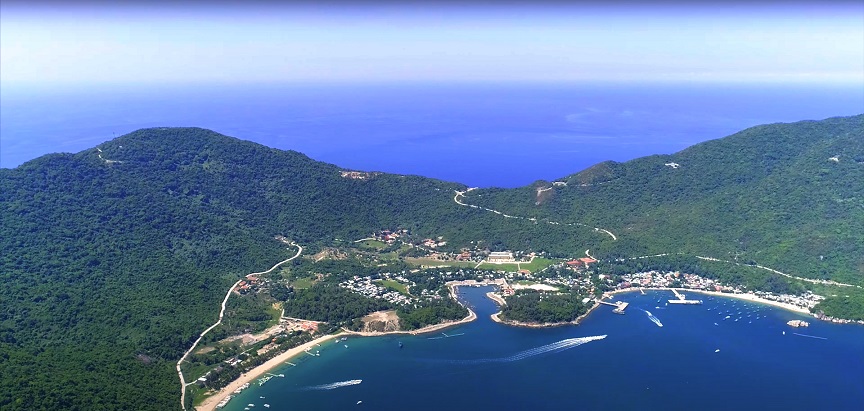 Cham Islands
The Love Lock Bridge in Da Nang is modeled after the world's most famous love bridges in France, Italy, Russia, Korea,… This is the place to prove and preserve the love of couples when coming to Da Nang. The Love Bridge is located between the Han River Bridge and the Dragon Bridge, from here you can see the vast other bank of the city. This place means a lot to thousands of couples coming to Da Nang, you can bring your own locks or buy locks at the bridge to hook to the bridge wall to keep the love of you and your loved one. Especially, if you travel to Da Nang in the last days of March 3, the city will take place the international fireworks festival and this bridge of love is an extremely ideal place for you and your loved ones to watch fireworks in this extremely romantic place.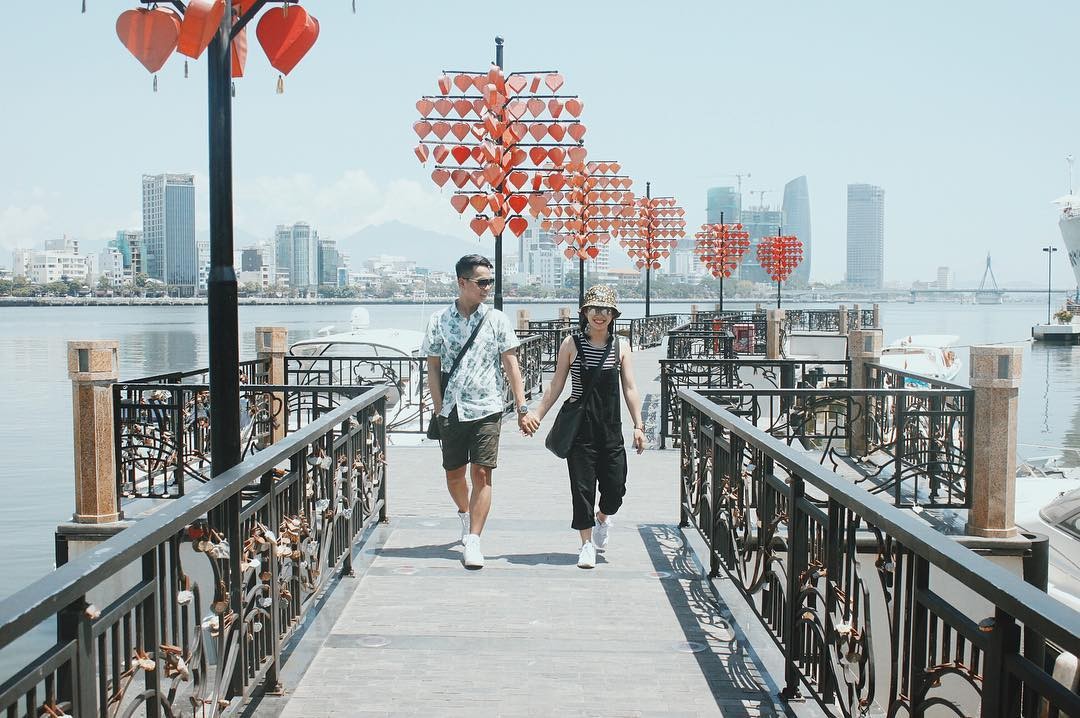 Love Lock Bridge
Located in Ba Na Hills tourist area and emerging in recent years, Golden Bridge, also known internationally as Golden Bridge, is one of the hottest Danang tourist destinations for domestic and foreign tourists. The Golden Bridge has an extremely impressive design with two giant hands supporting the bridge in mid-air. This is not only a check-in destination in Da Nang but also a place to organize fashion events, a place to take wedding photos of couples every year. Check in at Golden Bridge, you will have impressive virtual living moments enough to preserve many meanings in your Danang trip.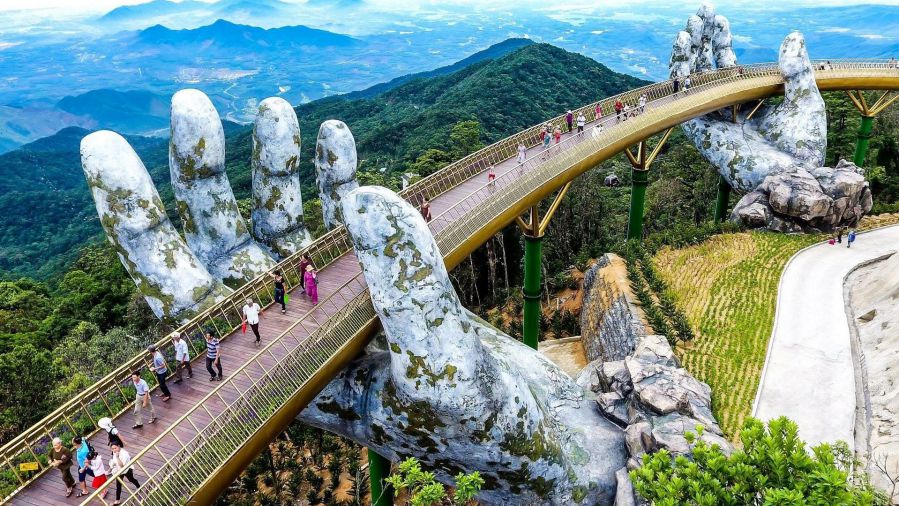 Golden Bridge
What is beautiful about Danang? Son Tra Peninsula owns a primeval forest with a fresh climate that is blessed with Da Nang. Located only about 10km from the city center, Son Tra Peninsula is a favorite destination for many tourists, especially for self-sufficient Da Nang tourists. Famous Danang tourist destinations such as Linh Ung Pagoda, Ban Co Peak, Obama Reef are located in Son Tra Peninsula, besides, this place is also the only place in Vietnam that owns a forest and sea ecosystem associated with each other. The climate here is cool all year round, suitable for swimming activities and relaxation of tourists, no need to go far, you can also find an interesting check-in place like you are lost in the foreground. To move to Son Tra Peninsula, you can go by car, motorbike or taxi, from the city center you go through Dragon Bridge to the coast, then follow Vo Nguyen Giap street to the northeast to arrive.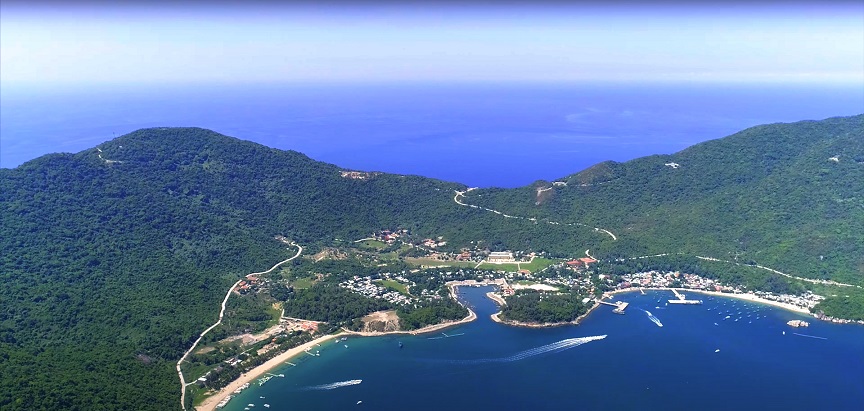 Son Tra Peninsula
Traveling to Da Nang, it is definitely impossible to ignore My Khe beach that is so famous with tourists and locals. My Khe Beach is one of the cleanest and most beautiful beaches in Vietnam, among the top Danang tourist destinations that you must visit when visiting this livable city. Have fun and relax at My Khe beach, you will enjoy the clear and warm water, besides indispensable fun activities such as volleyball on the sea, windsurfing, scuba diving ,… are the favorite activities of tourists with self-sufficient Danang travel experience. Swimming at My Khe beach, you can rent floats and chairs to sunbathe on the beach at quite reasonable service prices, besides, please pay attention to the instructions of the sea lifeguard to ensure your safety during your trip to Da Nang!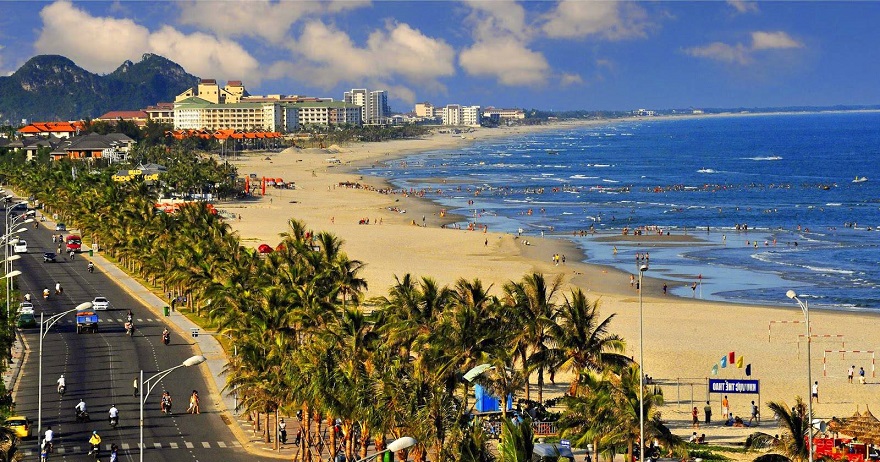 My Khe Beach
Hot mineral springs located in Than Tai mountain tourist area are on the list of the hottest Danang tourist destinations in this city. Hot mineral springs are the right place for you to relax and take care of your health. Hot spring park is a complex of hot mineral bathing areas and high-class resort hotel rooms, spas, cafes, restaurants for visitors to comfortably enjoy. Here, you will feel the freshness from the hot mineral spring with many substances that are good for your skin and body, helping you relax under the scorching heat in central Vietnam and after long days of work. The ticket price to enter Than Tai mountain hot mineral spring is 400,000 VND/adult ticket and 200,000 VND/child ticket, children under 1.3m tall will be free. In addition, the price of utility services here will depend on the service you use, ranging from 300,000 – 800,000 VND/service.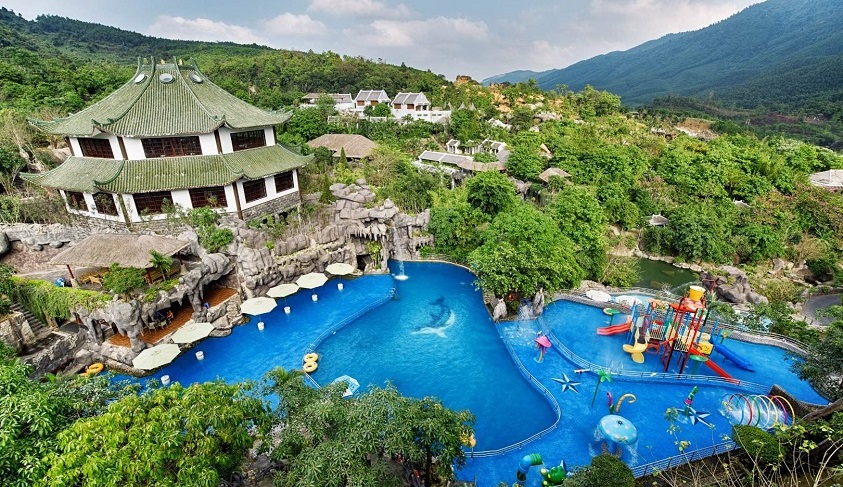 Shen Tai Hot Spring Park
Con Market is the most famous tourist market in the city, located right in Hai Chau district in the center of Da Nang city. Con Market is always at the top of the list of places to go in Da Nang, this market sells everything from food, household items, fashion… and you can find anything you want to buy at Con market. Besides, Con market is also a culinary paradise for many tourists with a food area full of specialties of the coastal city such as fresh seafood, pancakes, spring rolls, spring rolls, etc duckweed cakes, soup cakes,… at a very affordable price. Because it is right in the city center, you can easily find your way and move to Con market, if you travel to Da Nang, you will not need to think much when coming to Con market because the guides will enthusiastically advise and guide you what to buy, What to eat here.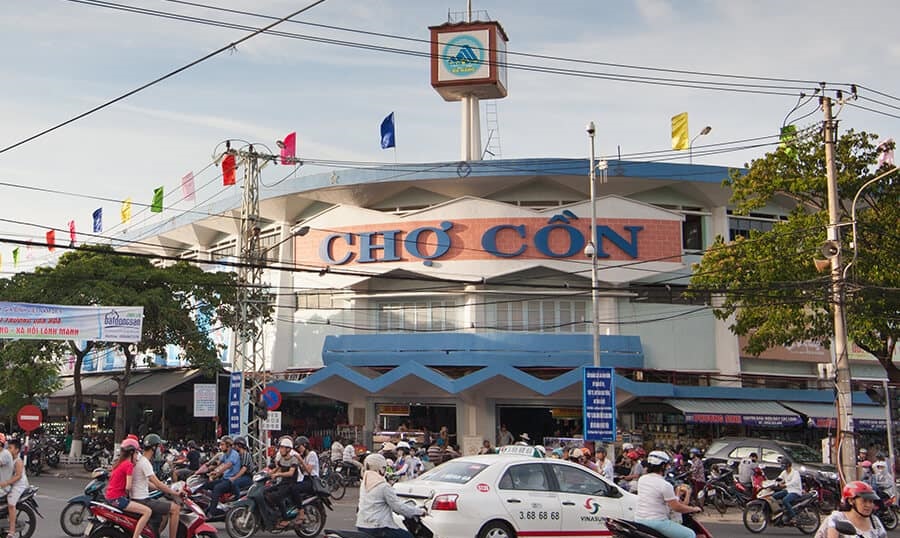 Da Nang Con Market
The Museum of Cham Pa Cultural History, also known as the Museum of Cham Sculpture Art, is a place to store artifacts of great value of Cham Pa culture when the land from Quang Binh to Quang Nam was annexed into Dai Viet territory. Coming to the Museum of Cham Pa cultural history, you will have the opportunity to learn about the history of the formation of the country with more than 2000 large and small antiques displayed in the museum, this is also the only museum in the world that preserves the ancient Cham Pa culture. Museum of Cham Pa Sculpture Art is located at No. 2, 2/9 Street, Hai Chau District, the entrance fee is 70,000 VND/person and the museum is open until 19h daily.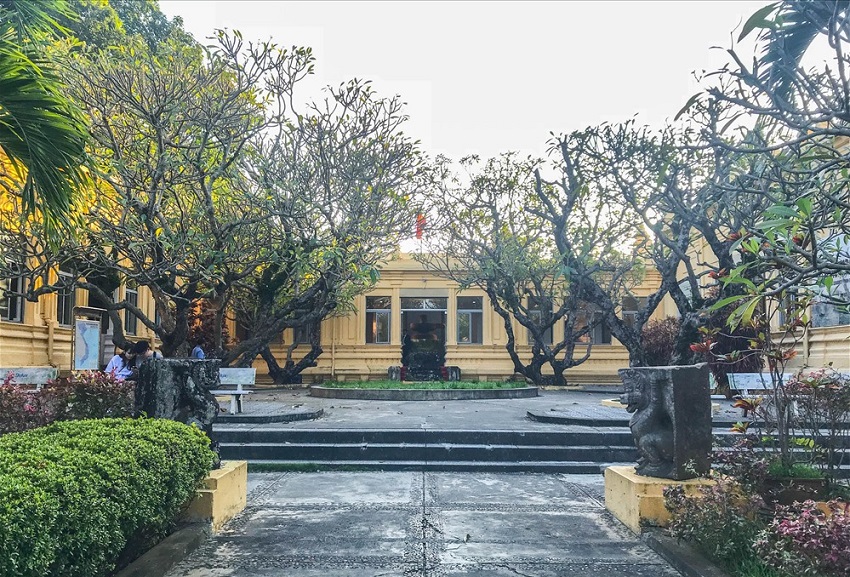 Museum of Cham Pa Cultural History
Although not in the territory of Da Nang, traveling to Da Nang, you definitely cannot ignore Hoi An – the ancient city is only 30km from Da Nang and extremely easy to find your way and move to. Hoi An Ancient Town is also one of the hottest Danang tourist destinations, especially for young people and self-sufficient Danang tourists. According to the Danang travel experience of many tourists, you only need to spend a day to explore Hoi An ancient town. This is a place to preserve the culture and history of the Chinese people with more than 1300 ancient relics including ancient houses, pagodas, wells, clan churches, … Hoi An Ancient Town is located right on the bank of Thu Bon River and is also the place to produce virtual live photos with ancient style of many young tourists, over the years, Hoi An ancient town has always been the hottest destination when traveling to Da Nang for domestic and foreign tourists. From the center of Da Nang, you can travel by bus, taxi, bus or most conveniently by motorbike to follow Highway 1A to the south to Hoi An ancient town.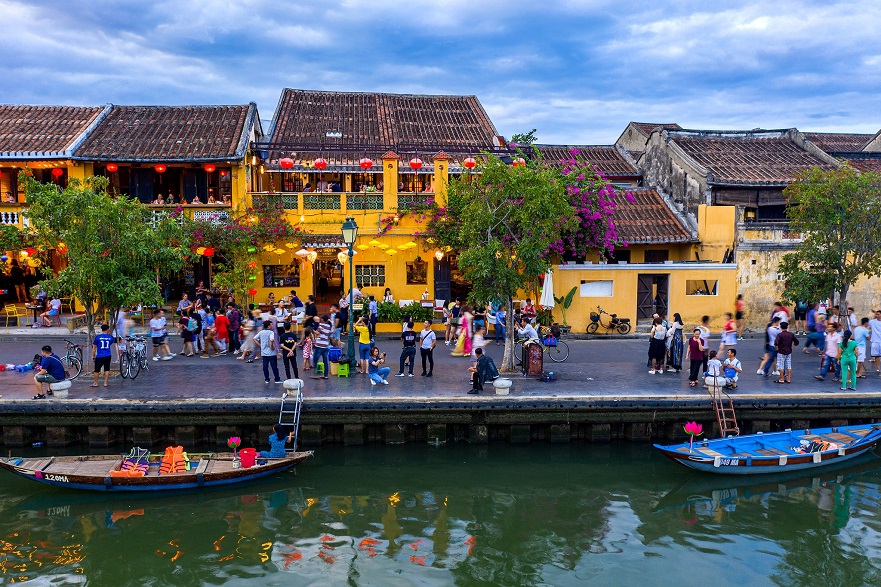 Hoi An Ancient Town
Han Market is the largest wholesale market in Da Nang. With an area of more than 28,000 square meters, Han Market is divided into many different zones. Hundreds of booths have all kinds of souvenirs, cuisine, fashion … The layout in the Han market is very neat and scientific, so visitors here can easily find what they want. Coming to the market, you can not only buy goods but also discover more culture of Da Nang through chatting with locals.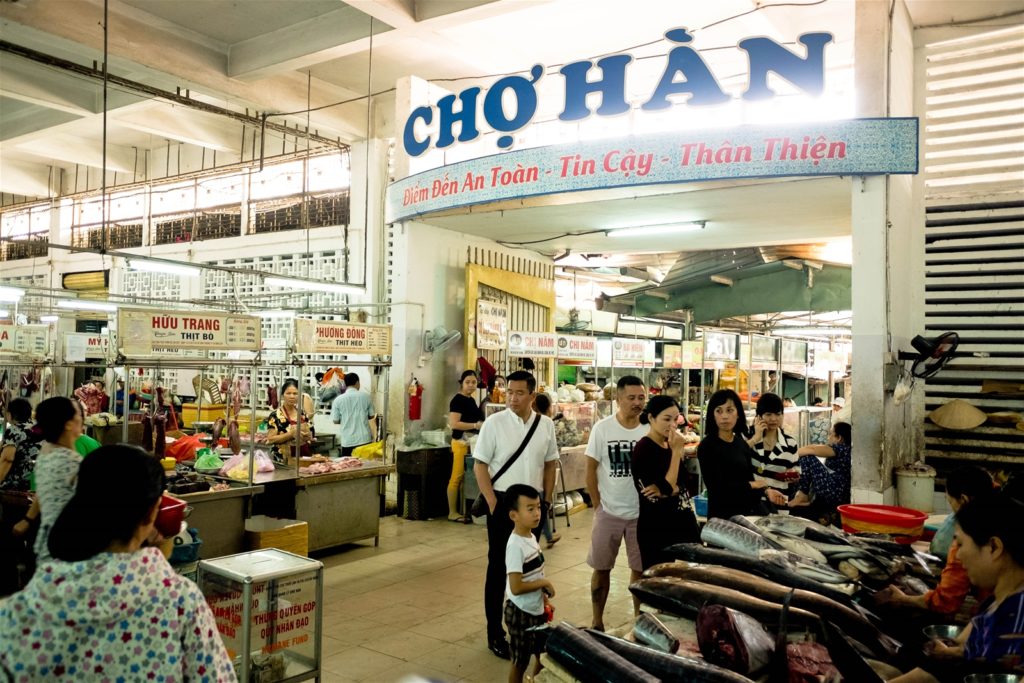 Diverse products and stable prices are the two best points of the Korean market. Especially here, there will be no price pressure, insurance evils … like many places in Vietnam. The Han Market is open from 6 a.m. to 22 p.m. The address is at 119 Tran Phu Street, Hai Chau District, Da Nang. You can go to the market at night because there will be bright and brilliant lights.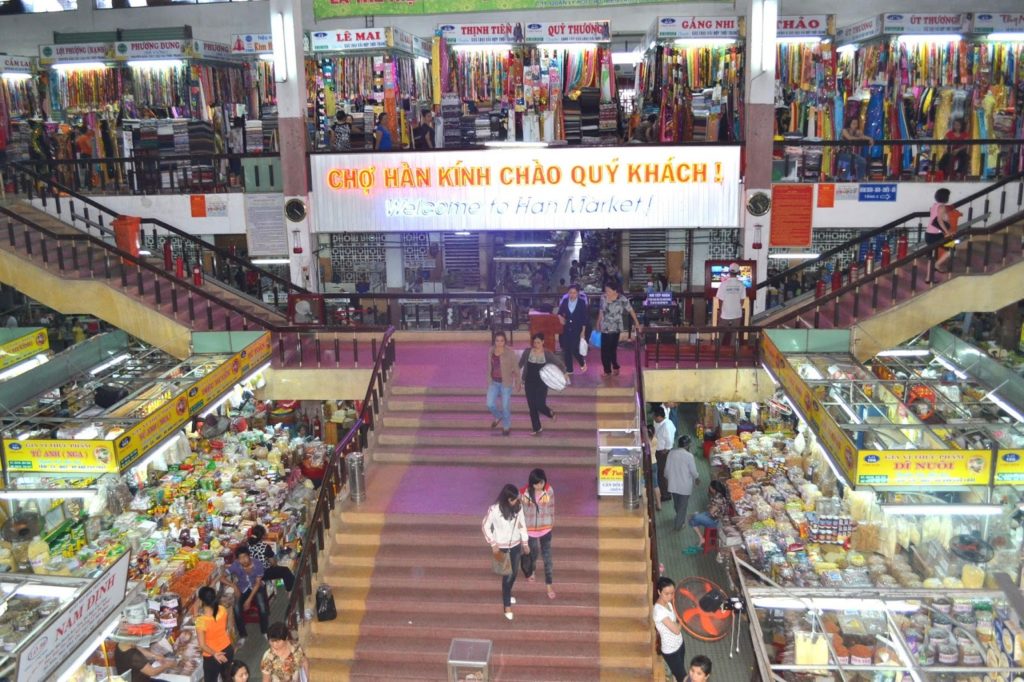 Through the above article, DaNaPho has compiled the Top hottest Danang tourist destinations you cannot ignore, hope the article will help your upcoming Danang travel plans.
Source: Internet