Da Nang's skylight is beautiful, a wild beauty, located deep in the mountains, without the guides, our team would not have been able to find out. Although I have an adventurous personality, before each trip, I prepare quite well. Do not think that just carry your backpack and go will come, if you are not consulted before the journey and bring the necessary items, I am sure that your trip is extremely difficult. Since we only took pictures with our phones, most of the images below are taken from different sources to illustrate the article.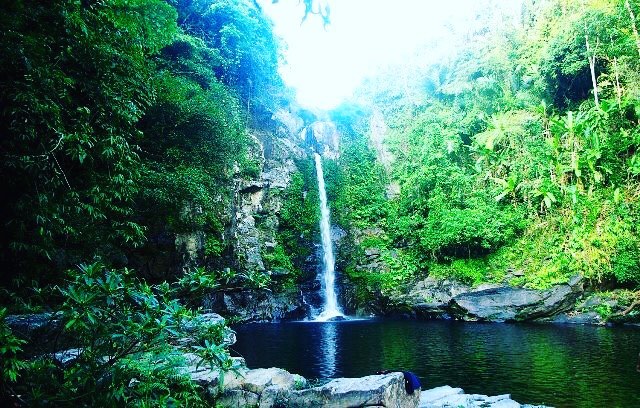 When should I go to the skylight?
Summer, around from 6 to 9 months, the weather is quite beautiful and sunny. The path will not be slippery and dangerous.
The festive season, because there will be many teams accompanying them, when they encounter difficulties or get lost, they will also receive a lot of help.
For those of you who like tranquility, it is recommended to go after Tet, the tourists return gradually, the number of backpackers to the Skylight will decrease significantly.
Transportation to and from Da Nang Skylight
Depending on the conditions and time, you can choose the right travel time for yourself. However, the advice for you is to go early in the morning. Since it was an ideal time, it was not yet sunny and the air was quite fresh, starting a rather interesting journey.
Walk. It's an option for those of you who aren't silk riders. It will take you about 4 hours to arrive. (Walking while sightseeing, resting in the middle of the road,
Riding a motorcycle, you will have to determine that you have long enough legs, a pair of arms strong enough to cross difficult terrain, an extremely buffalo horse and a spirit that always looks forward.
First, you should gather your team in one location, then move to Ba Na (Hoa Ninh Commune, Hoa Vang District, Da Nang). If you walk, you can park your car in Ba Na garage, then walk from here. If you ride, you drive straight in, to the section with a large stream, you will have to lock the neck of the car, cover with tarpaulin and continue walking.
Remember that Skylight is a destination without tourism services, so you should bring a tent to sleep at night. Do not bring a tent too big, because the terrain is uneven, you will have to pitch your tent on large rocks.
Estimated cost for trip
No road trip has ever been as cheap as going to Skylight. It only costs you food, how much depends on your preparation. Our group after going home cost 100k each.
Things to prepare
Food: if you can't cook, you should buy ready-made food and bring it. If possible, prepare some seasoned meat, go to the grill place, it is extreme.
Drinks: although there are springs, clear water, but to ensure safety, you should bring water, a little more because it will have to be used for 2 days and 1 night.
Tents, insect repellent, jungle shoes (if any, no, you can still wear tight shoes to prevent squeezing and walking for convenience), hats, hand tendons (if driving into the forest), trousers, socks, fire tools, sulfur (to put around the tent area, snakeproof), firecracker vests, raincoats.
Note: You should only bring the most necessary things, because the journey is long and very tiring, so carrying a backpack with too many things is really a terrible thing.
Specific itinerary
Our group consisted of 8 people, 4 boys and 4 girls. The group is expected to gather at 5am at the Park on March 29, and run up to Ba Na. But it wasn't until 3 o'clock that the group departed.
The road from the Center to Ba Na is quite safe and easy to a small bridge called Khe Moi, beyond the bridge looking on the right hand side there will be a steep dirt road up the way to the Skylight. At this time, there are 2 options: park the car in Ba Na and walk up or ride 1 more section and then walk on, the group decided not to park the car at the foot of Ba Na mountain, but to drive deep into the mountain.
As soon as the car was driven up, two cars fell. The road is quite bad and steep. After many falls and walks, walks and falls, at one point we were about to make a U-turn. But then we finally overcame the initial obstacles. After that, the road is more stable, sometimes there are sections with falling stones along the road, steep and rough, easily deflated. It was fun to get to the middle of the road, when we were resting and having a drink when we met another group of friends who were walking over. You also stopped and chatted, making us even more excited about our trip.