Da Nang is growing and becoming attractive to domestic and foreign tourists. Not only is it beautiful, this place especially has many sacred charming temples. Valentine's Day is coming, Halotravel would like to share with you the top 8 pagodas of Da Nang "bridge to be desired"!
1. Linh Ung Pagoda on top of Ba Na
This Linh Ung Pagoda is at an altitude of 1,400m of Ba Na peak, Da Nang. This is also a famous spiritual spot that visitors cannot miss when coming to Da Nang. Linh Ung Ba Na Pagoda has a beautiful location, covering a vast space of hills and mountains. On clear days, from the temple grounds, the whole of Da Nang can be clearly seen about 30km away.
On sunny days, looking from the city to Ba Na, you can see the towering Buddha statue 27m high. Surrounded by many majestic greenery of primeval forests.
The feeling of fatigue seems to go away. When visitors admire the statue of Shakyamuni Buddha creating meditation is among the largest in Asia. Built on the top of a high mountain. Linh Ung Pagoda is extremely sacred. The delicate architectural features of the pagoda make the atmosphere of meditation more pure, the heart of people visiting the pagoda more ethereal and relaxed.
Address: Ba Na Hill, Hoa Vang, Da Nang
2. Linh Ung Pagoda of Son Tra Peninsula
Linh Ung Pagoda in Son Tra Peninsula is considered a Buddha realm in the middle of the world. This can be considered as the most famous Danang charm bridge pagoda. The pagoda is located on the top of a mountain in Bai Buddha, Son Tra peninsula, Da Nang. Many people call it Linh Ung Bai But Pagoda or Linh Ung Son Tra Pagoda. Because Da Nang has 3 Linh Ung Pagodas.
Linh Ung Bai But Pagoda is known as a beautiful, large and … the youngest of the 3 "Linh Ung Tu" temples in Da Nang. This place is also known for having the tallest statue of Quan The Yin Buddha in Vietnam. With a 67m high statue of Guan Yin, the heart of the statue is divided into 17 floors. Each floor has an altar of a total of 21 Buddha statues with different shapes, faces, and postures called "Middle Right Buddha".
Linh Ung Pagoda is not only a destination for tourists but also the indigenous people of Da Nang always choose this as a destination to pray for blessings. The temple is also very sacred when praying to be desired, so everyone worships and worships.
Address: Linh Ung Pagoda, Hoang Sa, Tho Quang, Son Tra, Da Nang
3. Linh Ung Marble Mountain Pagoda
Linh Ung Pagoda is located in Hoa Hai Ward, Marble Mountains, Da Nang. The city center about the pagoda is about 8km to the Southeast. The statue stands out with a height of 10m, sitting in a position with its back against the mountain, facing the pagoda, looking very peaceful and majestic.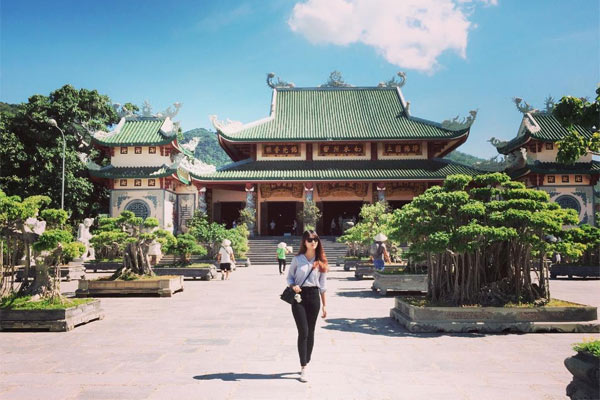 Most people in Da Nang believe that since there was a statue of Bodhisattva Quan The Yin at Linh Ung Non Nuoc Pagoda. The life of people here became more peaceful and warm, floods and droughts were also greatly reduced. Many people are also very semi-skeptical. But one thing that cannot be denied is that these stories have made the pagoda seem more mysterious and mysterious colors that everyone wants to dig deeper. This adds confidence to Buddhists and those who do not yet have a solid spiritual support.
Address: Ngu Hanh Son, Hoa Hai Ward, Ngu Hanh Son District, Da Nang
4. Guan The Yin Pagoda of Da Nang
Address: 48 Su Van Hanh, Hoa Hai, Ngu Hanh Son, Da Nang
Quan The Yin Pagoda is located at the foot of Kim Son Mountain, one of the five Marble Mountains. This place is called the Buddhist Sanctuary of Da Nang. The temple was founded by Venerable Thich Dharma. During one of his sleeps, the monk dreamed that Guan Shiyin appeared in his heavenly cave. From that day, the monk found a cave with a statue of Guanyin created by nature, thereby establishing the sacred temple of Guanyin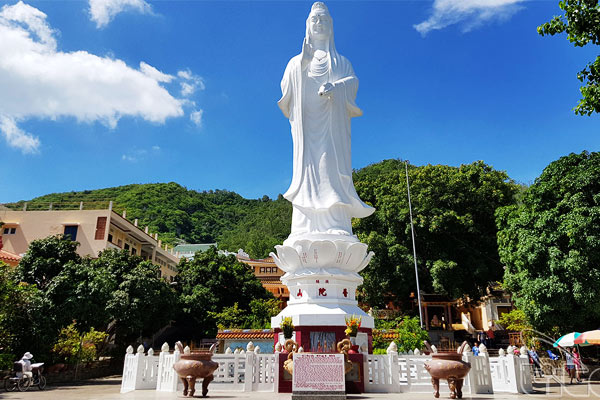 Ngôi chùa được xây dựng giữa hệ thống hang động thiên nhiên hùng vĩ, khắp nơi đều là núi rừng. Đến với chùa Quán Thế Âm, du khách thường cầu bình an, vạn sự như ý. Không chỉ thế, du khách còn được cảm nhận cảnh sắc thiên nhiên, hít thở không khí trong lành và hòa vào núi rừng nơi đây
Một số ngôi chùa đẹp ở Đà Nẵng:
5. Chùa Pháp Lâm
Địa chỉ: 574 Ông Ích Khiêm, Nam Dương, Hải Châu, Đà Nẵng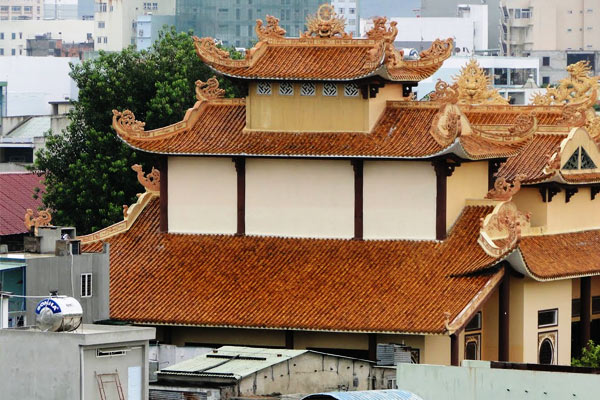 Bước vào cổng chùa các bạn sẽ cảm nhận được quang cảnh mát mẻ thoáng đãng, không khí trong lành, bình yên. Chùa Pháp Lâm được xếp hạng lớn nhất Đà Nẵng và là trụ sở của Thành hội Phật giáo thành phố. Ở đây diễn ra rất nhiều hoạt động ý nghĩa: Như cầu nguyện hòa bình cho biển Đông, Lễ khai hạ, triển lãm ảnh hoa sen mừng Phật đản. Chương trình tiếp sức mùa thi…
Chùa cũng là một trong những chốn linh thiêng mà du khách và người dân thường ghé cầu bình an, tình duyên, cầu lộc đầu năm…
6. Chùa Phổ Đà
Địa chỉ: 340 Phan Châu Trinh, Bình Thuận, Hải Châu, Đà Nẵng
Là một ngôi chùa cầu duyên Đà Nẵng vô cùng nổi tiếng. Chùa Phổ Đà là địa điểm tham quan Đà Nẵng thu hút hàng trăm lượt khách đến hành hương hàng năm. Chùa được xây dựng trên đường Phan Chu Trinh từ năm 1915 và đã trải qua 2 đời sư trụ trì. Địa điểm tham quan này nằm ở ngay trung tâm thành phố Đà Nẵng và cũng là trường Trung cấp Phật học chùa Phổ Đà Đà Nẵng do hòa thượng Thích Từ Mẫn làm hiệu trưởng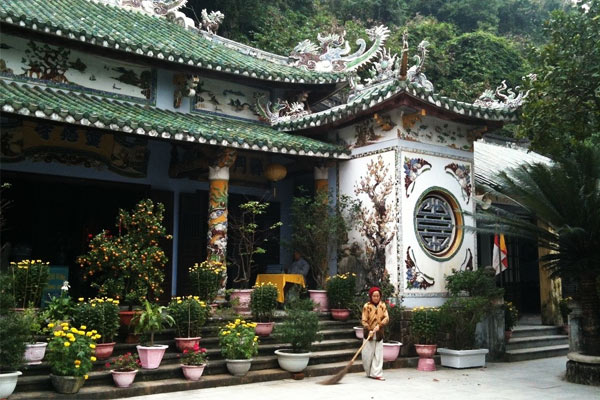 Điểm nổi bật của ngôi chùa này chính là tượng Đức Bổn Sư cao 2,75m, nặng 3,5 tấn. Chùa được khánh thành vào sáng ngày 28 tháng 12 năm 2004 tại khuôn viên chùa Phổ Đà. Được biết, việc tiến hành đúc tượng do các nghệ nhân cơ sở Vạn Niệm tại phường Đúc, TP Huế có nhiều kinh nghiệm thực hiện.
Vào những ngày như mùng 1 hay 15 hàng tháng. Chùa Phổ Đà đón vô vàn khách đến lễ và thắp hương. Người ta đến đây để cầu bình an và tịnh tâm sau những ngày làm việc mệt mỏi.
7. Chùa Bát Nhã
Địa chỉ: 176 Triệu Nữ Vương, Nam Dương, Hải Châu, Đà Nẵng
Đây không phải là một ngôi chùa cầu duyên nổi tiếng được nhiều người biết đến. Nhưng lại là một chỗ dựa tâm linh vững chắc. Mà nhiều người tại Đà Nẵng thường lui tới. Chùa Bát Nhã nằm trên đường Triệu Nữ Vương. Mang nét đẹp cổ kính ngay giữa lòng thành phố Đà Nẵng hiện đại.
Đây là ngôi chùa có hoạt động cầu an diễn ra sôi nổi và thường xuyên nhất ở thành phố Đà Nẵng. Các buổi cầu an thường được tổ chức long trọng. Luôn được hàng nhìn Phật tử từ khắp nơi trên thế giới quy tụ về đây để cúng bái. Người dân thường đến đây vào dịp đầu năm để cầu bình an.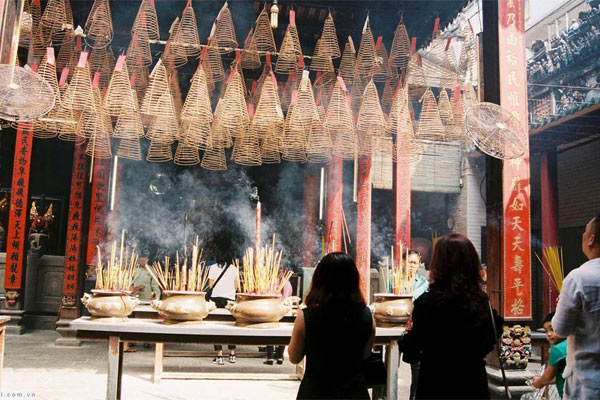 If you want to find a charming pagoda in Da Nang, Bat Nha Pagoda is the most suitable place
8. Tam Thai Pagoda: The oldest pagoda in Da Nang
Address: Huyen Tran Princess, Hoa Hai, Ngu Hanh Son, Da Nang
As the oldest pagoda in Danang, Tam Thai Pagoda is a Da Nang charm bridge pagoda chosen by many tourists for their visit.
The temple was built in 1630 as the Tam Tai Temple. In 1825, the temple was rebuilt, designated as the National Temple. Located in the Marble Mountains complex, a scenic spot of Da Nang. So Tam Thai Pagoda welcomes hundreds of visitors every year.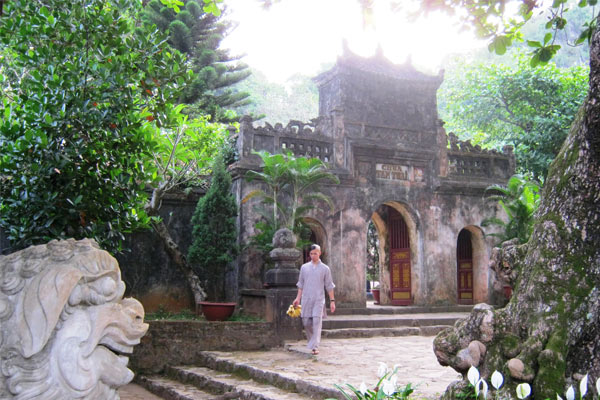 Coming to Tam Thai Pagoda, visitors not only pilgrimage, Buddha ceremony but also to enjoy unique architecture. The architectural style of the temple is typical of the Nguyen Dynasty. Standing from Tam Thai Pagoda, visitors can admire the vast sky and famous rivers of Da Nang
Above are the 8 most sacred Danang pagodas that you can refer to during your tour. I hope that here you will have wishes come true. I wish you all the happiest and happiest moments. See you in the next articles.