Hoi An Ancient Town is a famous city of Quang Nam province, an old town that remains almost intact with more than 1000 architectural monuments from streets, houses, assembly halls, communal houses, pagodas, shrines, ethnic churches. , ancient wells … to the traditional dishes, the soul of the people here. A visit to Hoi An will captivate visitors by the timeless beauty, extremely rustic and idyllic.
"I want to tell Lai Vien Kieu Town Hall
Waiting for people to turn to the river in the afternoon
The wooden roof of the bridge has been carved with painted vermilion
For hundreds of years, the tile is still warm and mossy"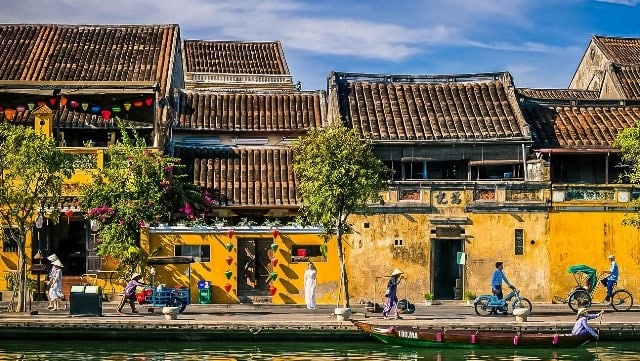 Hoi An – the convergence of the quintessence of Vietnam's beauty, culture and history
When traveling to Hoi An , visitors should choose the time around February – April every year because that is when Hoi An pleases tourists the most. There is little rain, no hot sun like summer, pleasant climate, open space. At this time, visitors can freely visit the beautiful scenes in Hoi An or discover new activities and places to fully feel the beauty of this place. Remember to book your hotel room in Hoi An early to avoid running out of rooms.
Traditional architecture
Hoi An is famous for its traditional and harmonious architectural beauty of houses, walls and roads. Along with many ups and downs of history, Hoi An ancient town still retains the ancient beauty of silence and moss in each tile roof, brick, tree line, etc. , the authenticity of the local people.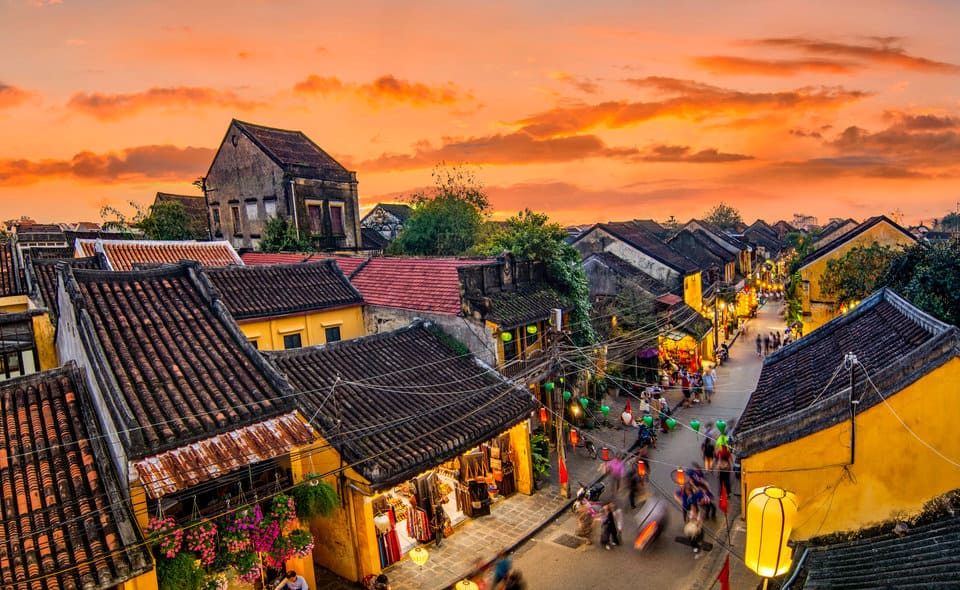 The ancient architecture seems to remain intact in each roof, on each Hoi An street
The most common type of housing is the one or two-story tubular house with a narrow width and a very long depth. The house is made from materials with high strength and durability due to the harsh climate here. The two sides have separate brick walls and wooden frames, divided into three compartments with a path in the middle. Each house in Hoi An ensures the harmony between living space and nature. Each house has a courtyard that is paved with stone and decorated with water tanks, rockeries, and ornamental plants, creating an overall beauty.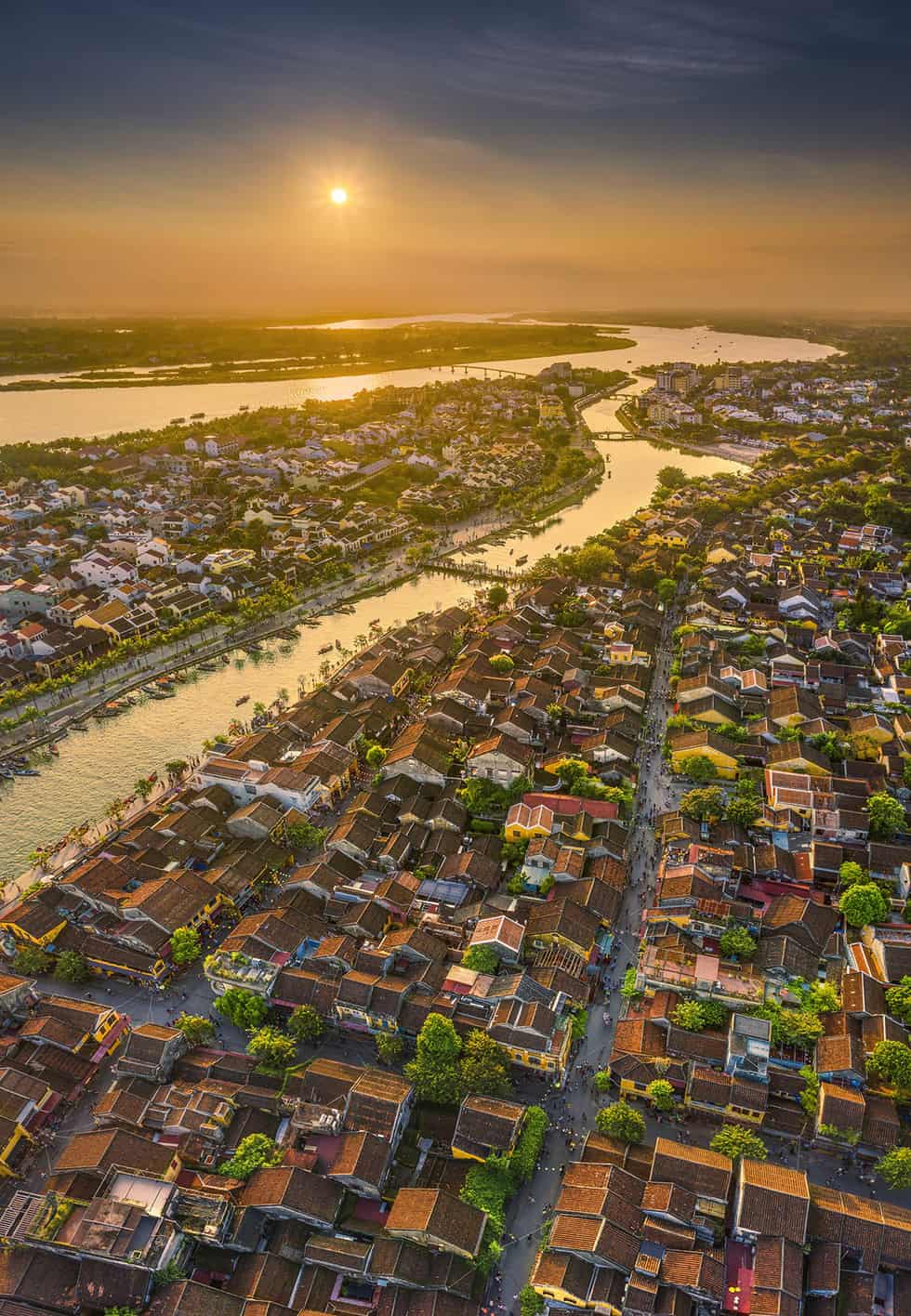 The houses are lined up close together in the heart of the old town
With a unique architecture, the space of the house in Hoi An is always airy, full of sunlight, people and nature as one. These things bring a comfortable free life to the locals and the enjoyment of tourists in Hoi An travel .
Streets in the Old Quarter are arranged horizontally along a chessboard style with short and beautiful streets, winding, embracing houses. Walking through each of those small and peaceful streets, visitors can not only enjoy delicious food but also see a part of the daily life of the people of Hoi An, a peaceful and simple life. weird.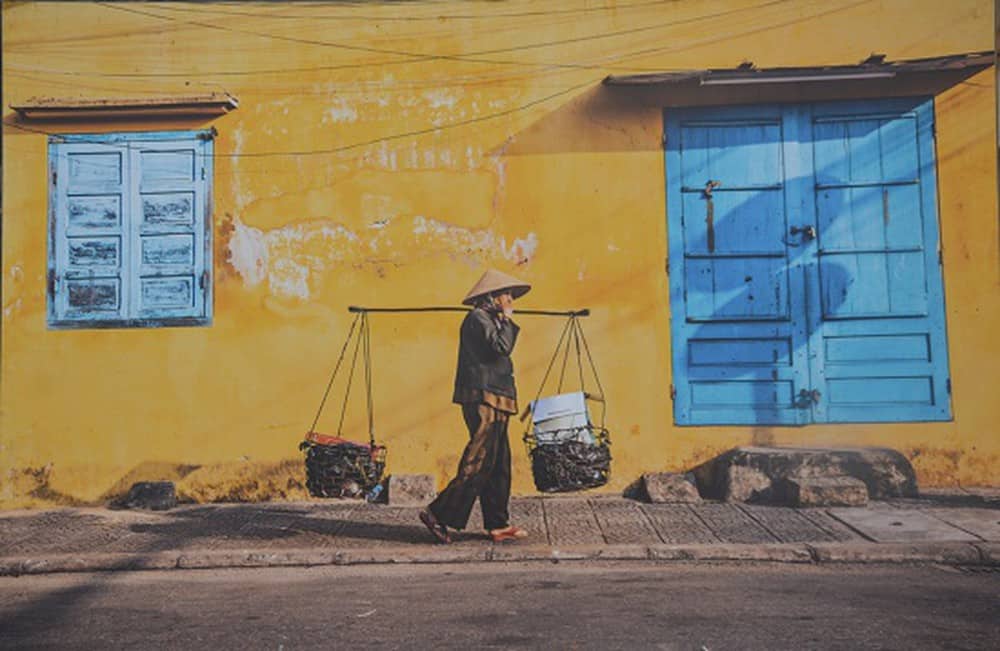 The ancient town of Hoi An is rustic and peaceful on every street corner
The complex of Hoi An architectural monuments is very rich and beautiful, so this place has been, is and always will be a place to attract domestic and foreign tourists to visit, explore and fully enjoy their vacation when booking. The hotel is right in the old town of Hoi An. Traveling to Hoi An , visitors will realize that time seems to have stopped here in each of the yin and yang tiled roofs covered with moss, the old moldy gray walls, preserved from the past and exist to this day.
Typical monuments
It would be a mistake if you travel to Quang Nam without visiting the "symbol of Hoi An" – Covered Bridge . This place also has another name, Japanese Temple is located adjacent to Nguyen Thi Minh Khai Street and Tran Phu Street. This unique architectural work is also printed on our country's 20,000 VND polymer banknote!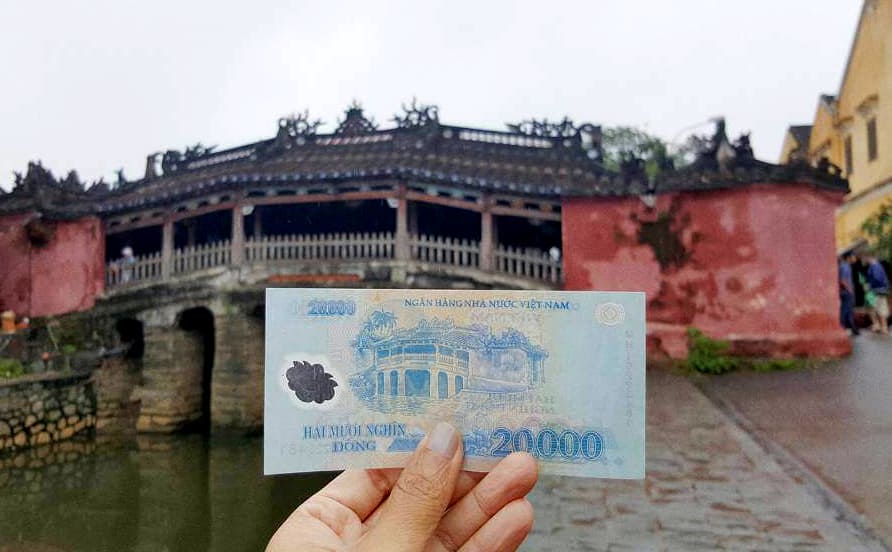 Hoi An's iconic Covered Bridge is printed on the VND 20,000 polymer bill
Curved Bridge Pagoda , made of wooden planks, crosses the creek leading to Hoai River. The bridge is 18m long with a roof covered with yin and yang tiles, facing the Thu Bon River. The special thing is that even though it was built by the Japanese, the Bridge Pagoda has bold Vietnamese architecture.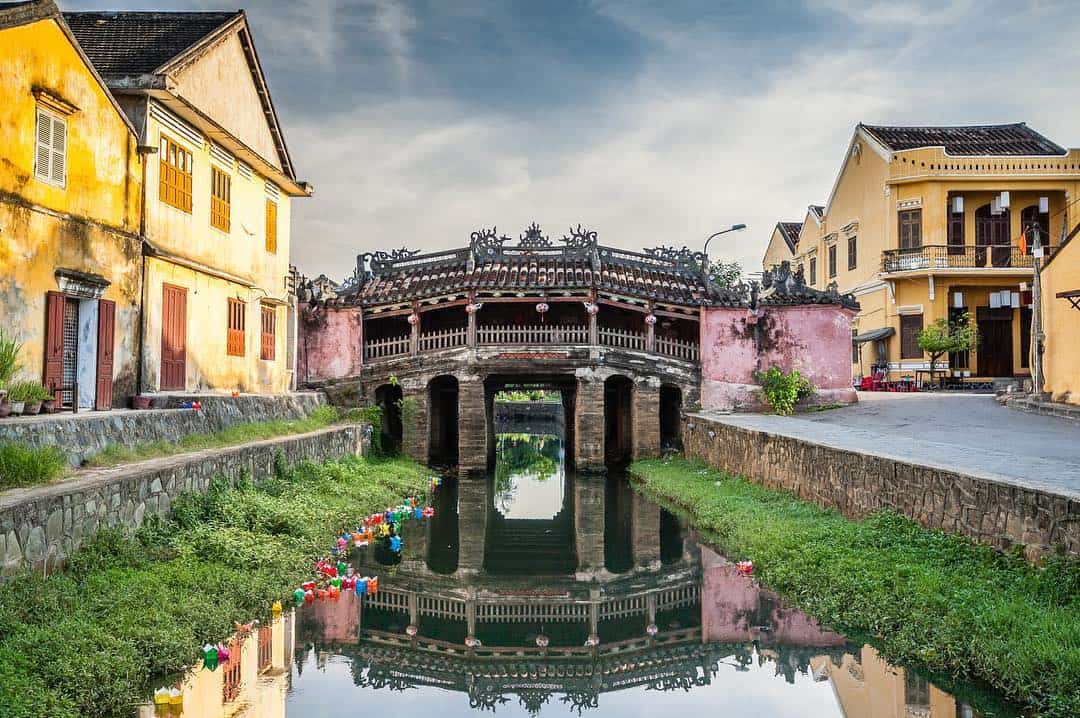 Covered Bridge with bold Vietnamese architecture
Above the main door, there are three Chinese characters embossed with Lai Vien Kieu, which means the bridge of friends from afar. This place was often visited by Japanese merchants around the middle of the 16th century . Above the bridge, there is a small temple in the time of the Bac De god Tran Vu, specializing in controlling storms and floods, bringing joy and happiness to everyone. At the two ends of the bridge, there is a group of monkeys and dogs sitting in adoration.
Through years of time and restoration times, Cau Pagoda is still a unique work, a beautiful architectural beauty in Vietnamese style. This is an invaluable asset and is officially chosen as the symbol of Hoi An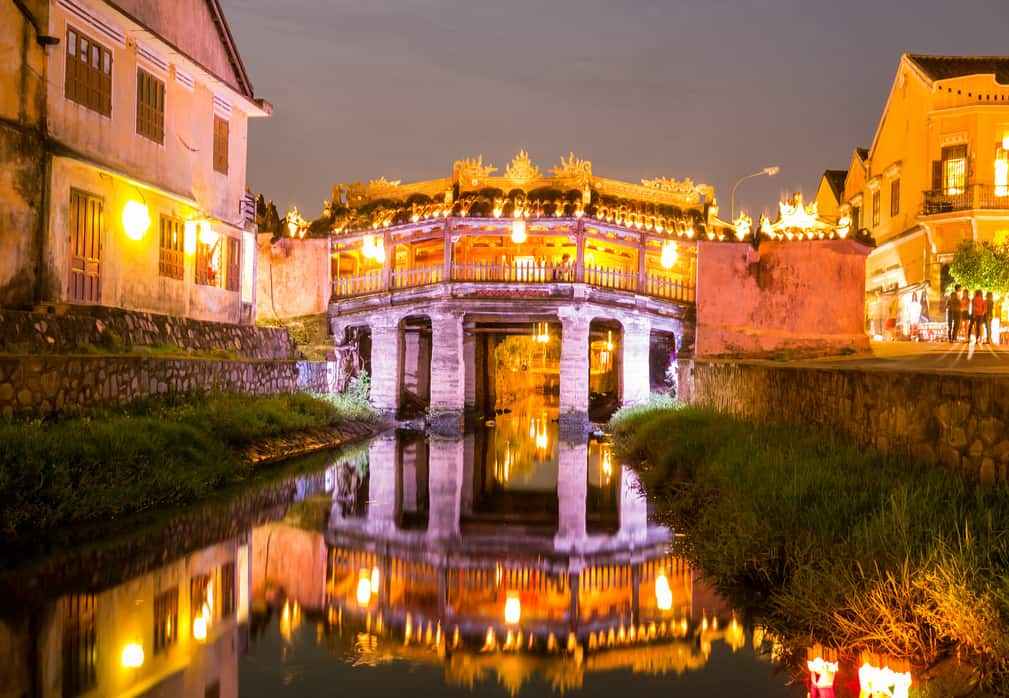 Covered Bridge in the evening shimmering and fanciful
Besides, to better understand the life and culture of Hoi An people, visitors should visit some famous ancient houses and spiritual and social works such as Quan Thang, Duc An, Tan Ky ancient houses, … or some assembly halls such as Fujian, Trieu Chau, Cantonese… These are beautiful places in Hoi An that help visitors experience the typical cultural space of Hoi An town.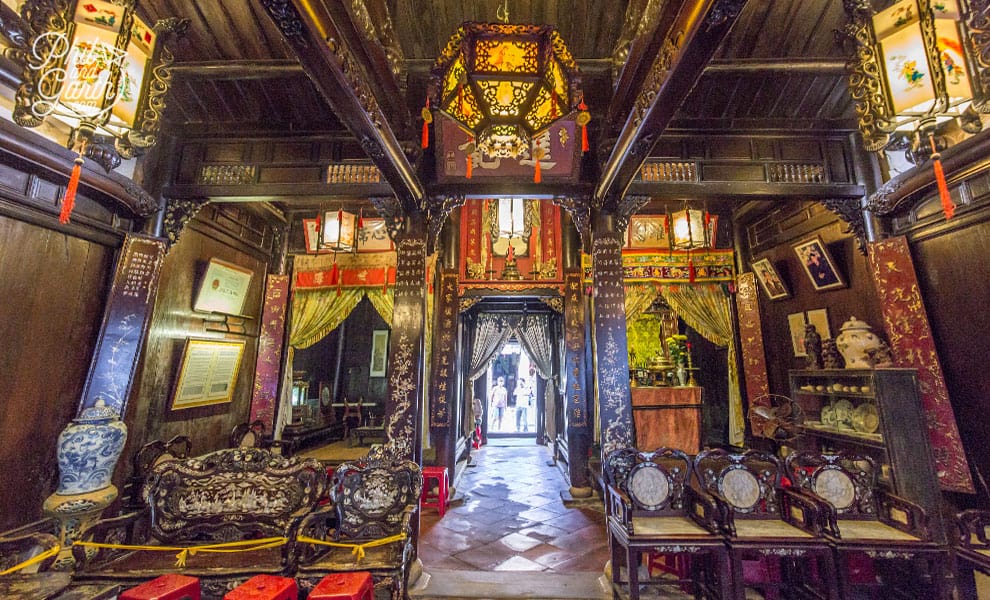 Inside Tan Ky ancient house.
Tan Ky ancient house is an old house honored to become a National Heritage and the only place to welcome Heads of State, politicians at home and abroad. The old house is a combination of Chinese, Japanese and Vietnamese architecture. With the typical tubular architecture of the ancient city, this place consists of two overlapping horizontal bars, representing heaven – human and 5 vertical bars representing the five elements. The harmonious architecture of the house speaks of the dream of harmony between people and nature in Hoi An town. In addition, you can choose hotels near Hoi An ancient town for easier and more convenient travel.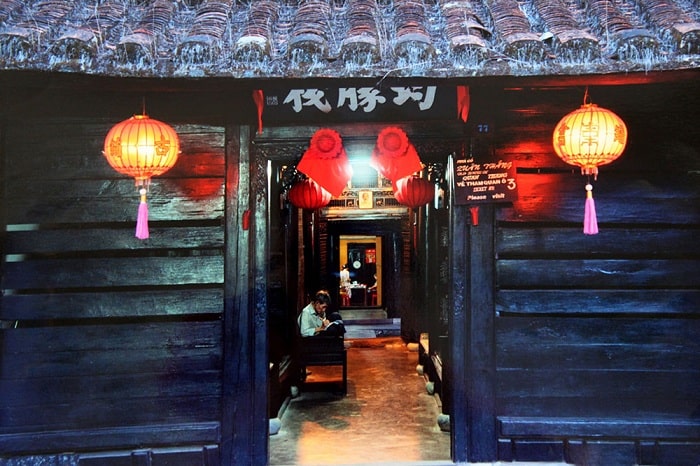 Quan Thang ancient house in Hoi An.
Quan Thang ancient house is also one of the most beautiful ancient houses in Hoi An today. The delicate and lively architecture and sculptures of this place are made by the artisans of Kim Bong carpentry village in the style of the Hoa Ha region, China. Over time, the old house still stands there as if defying time, helping today's generation imagine the life of the merchant class in Hoi An in the past.
Good quality HOI AN HOTEL with "attractive offers" are only available at VNTRIP.VN
During a trip in Hoi An , visitors can freely choose snacks from countless shops and street vendors. If you want to enjoy the best corn soup, pound cake, fried mussels in Hoi An, you should go to Ba Gia Dam cake shop, on the sidewalk of Tran Phu street…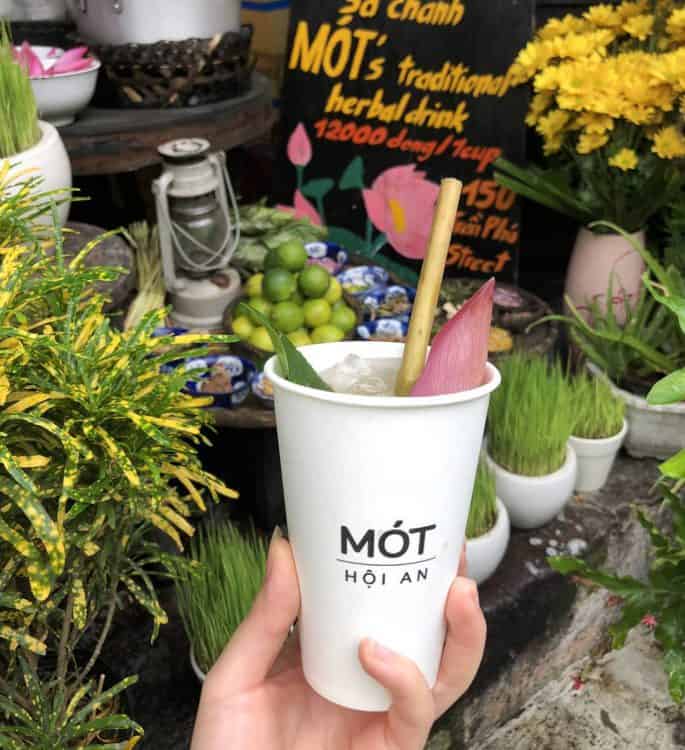 Hoi An juice is very good for the body
Tourists can also try delicious food in Hoi An famous as Quang noodles at many places along the old town such as Mrs. Minh's shop, in Hoi An market or at the beginning of Tran Phu street. In addition, Cao Lau is also considered a dish worth trying when traveling to Hoi An. Golden color, crunchy food with a little delicious broth, herbs, crispy fried fat will make many diners satisfied.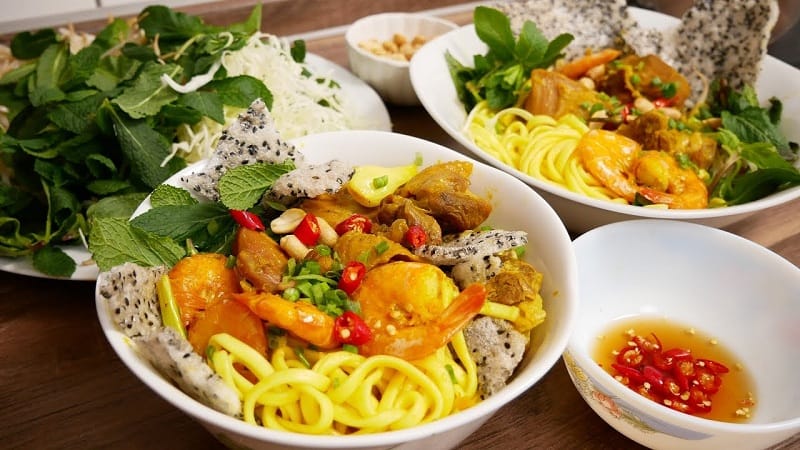 Hoi An Quang Noodles
The main dishes such as Ba Buoi chicken rice, Ms. Nga, Phuong or Madame Khanh bread with full meat, ham, pate, raw vegetables and fragrant sauce will make you "nod" with Hoi An real kettle. .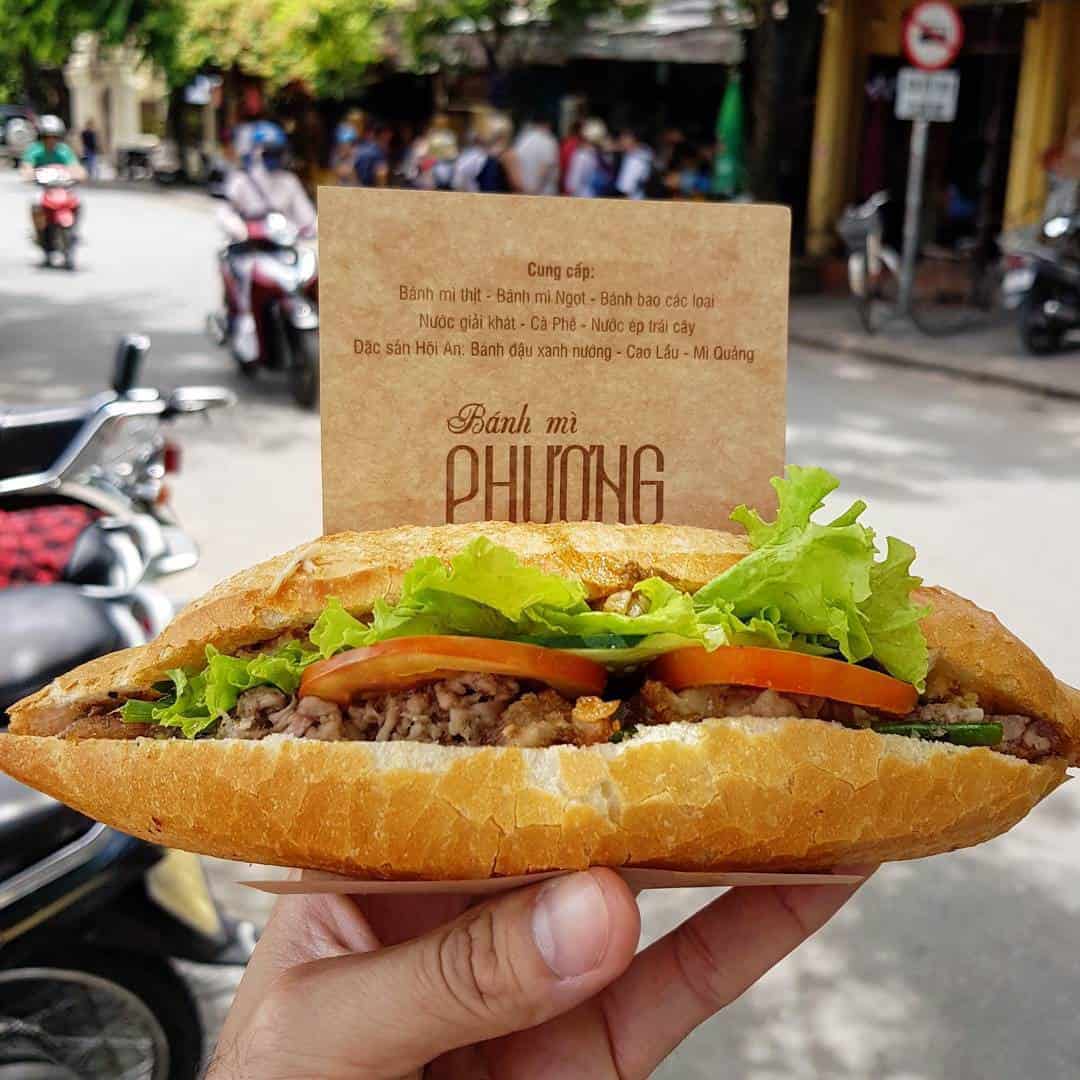 Hoi An famous Phuong bread
Lanterns are also considered a "specialty" not to be missed when traveling in Hoi An. Visitors can easily see lanterns of all colors and shapes around the streets and houses. On the full moon day of every month, there is a different Hoi An in the eyes of tourists – a splendid Hoi An with the light of lanterns and lanterns.
Walking along Hoai River or sitting in the middle of a small boat, rowing to the middle of the river, gently releasing each lantern, watching the rows of lanterns shimmering on the banks and praying for peace is an experience visitors should do. during a tour in Hoi An. The magical light of lanterns and flowers adorns the beauty of Hoi An in the eyes of tourists, becoming a feature, a spiritual dish of tourists when coming here.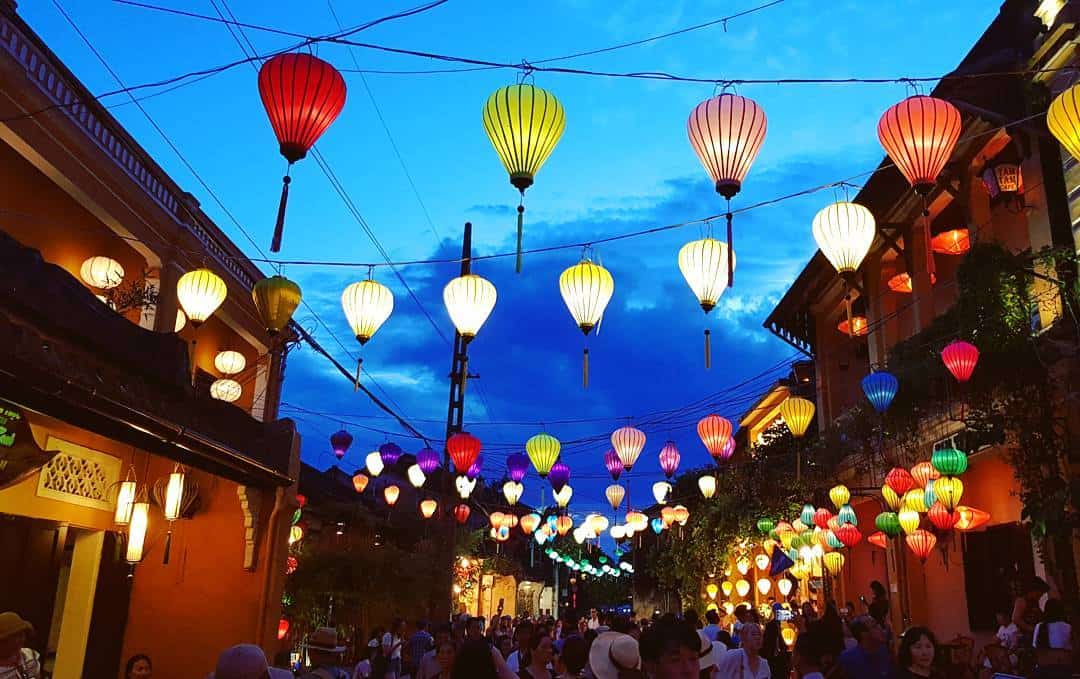 Hoi An at night shimmers brilliantly under the light of hundreds of lights scattered throughout the neighborhood
Cheap hotels in Hoi An
If you want to book a room in Hoi An, you can refer to the following hotels with great prices from Vntrip:
Hoi An ancient town always has its own beauty in every street corner, every roof, and on small streets. Coming here, visitors can feel the warmth in each dish, from the friendly and close smiles of the people. Even for the plants, the space here is also attractive to visitors. Walking on each small street, you seem to find yourself in the old days, the beautiful memories of childhood in this strange and dear land.